Affiliate marketing is one of the most popular ways for publishers to monetize their websites. And with so many niches and products to promote, making sense of the best affiliate programs to promote is tricky at the best of times.
If you're searching for the most lucrative affiliate marketing niches, marketing and business management is always a good choice. Think about it from the angle that there are always people setting up new businesses, with many of them searching about how to get the best from their website.
And if you're already running a marketing or business focused website, you might be wondering who offers the best deal on affiliate referrals.
Within this blog post we're going to look at the best PPC affiliate programs – or affiliate programs for the digital marketing niche. This includes both popular PPC ad platforms, as well as products and services you can promote on your affiliate website to earn commission.
The first section will showcase the best PPC ad platforms to earn a payout on your publisher site – for example by hosting display ads.
And in the second section we'll look at products and services you can either partner with directly, or sign up for one of the many affiliate marketing platforms.
Ready to get earning? Let's dive in….
Pay per click ad networks
One of the most popular and passive ways to earn money on your content based website is to sign up to host display ads. This means that you sign up, add a code snippet to your site, select the areas to display ads and then sit back as your website traffic earns you money.
Of course it isn't as easy as that, and you do have to create useful content and generate genuine organic traffic to maximize your payout.
These are the most popular PPC affiliate programs that pay good money to display on your site.
Google Adsense
The daddy of the display ad world, Google Adsense is the search engine giant's platform for publishing partners. If your site meets the criteria, you'll be able to submit your site to be a part of the Google Display Network (GDN).
This means you'll host display ads from banners to side panels, and even embedded videos, and collect a payout based on both page views and clicks.
But this isn't an affiliate program you say? This is just hosting ads on your site. Well, yes, you're right. But ad revenue is ad revenue, and as the largest ad platform Google Ads is used by businesses all of sizes from across the world.
So although you're not earning as part of a referral program, you are monetizing your web traffic.
To be eligible for Google Adsense, your site will need to meet their minimum requirements. In short, your site will need to be mobile optimized, contain plenty of useful content and be user friendly.
Sign up for Google Adsense here.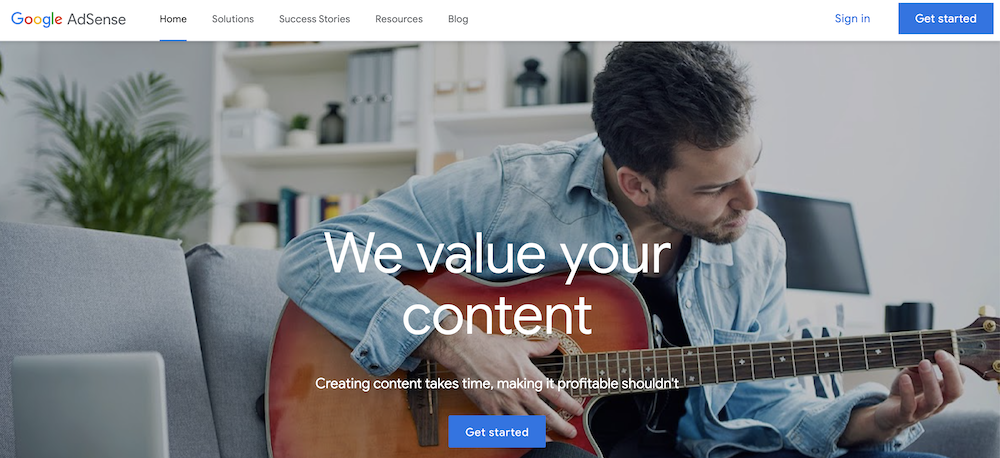 Adsense Features
Quality advertising partners
Not the highest paying program, with around $3-5 per click
Minimum payout $100 means it can take time to collect your money
Auto ad placements means you don't need to insert banners or links
Ezoic
Many affiliate marketers are after the best pay per impression or click, or looking for an alternative for Google Adsense. And Ezoic offers one of the more competitive alternatives to collect an affiliate payout, with higher CPMs and CPCs for publishers.
But, here is the confusing part, Ezoic ads also include ads from Google Adsense. In fact, Ezoic aggregates pay per click ads from across the advertising world.
Affiliates promoting Ezoic earn on average 3% of the revenue they refer. Ezoic claims that on average this is around $1,500 per month, although there are no caps on earning so, potentially, the sky's the limit.
Not only that but if you do refer any publishers, you can collect up to a 100% bonus on their first payout!
Find out more about the Ezoic PPC affiliate program here.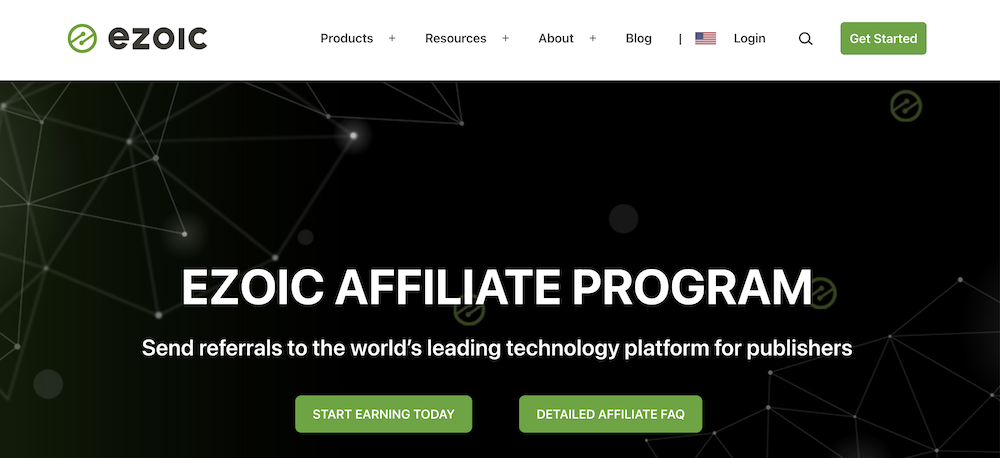 Ezoic features
3% lifetime earnings on referred traffic
Less intrusive ads than some other networks
Bonus payout when a referral earns their first paycheck, between 20-100%
30 day cookie
Revenue Hits
Another ad platform offering an affiliate referral program is Revenue Hits. Like Ezoic, they also aggregate ads from various other ad platforms to display on publisher partner websites.
As an affiliate marketer, you can promote Revenue Hits to an publishing audience.
One of the main reasons to promote the Revenue Hits affiliate program is because of their generous referral payout. For the first year, you'll earn 10% from referred publishers earning over $1,500 per month. For those earning under $1,500 you'll earn 5%, which is still more than some other PPC affiliate programs on the market.
Sign up for Revenue Hits PPC affiliate program here.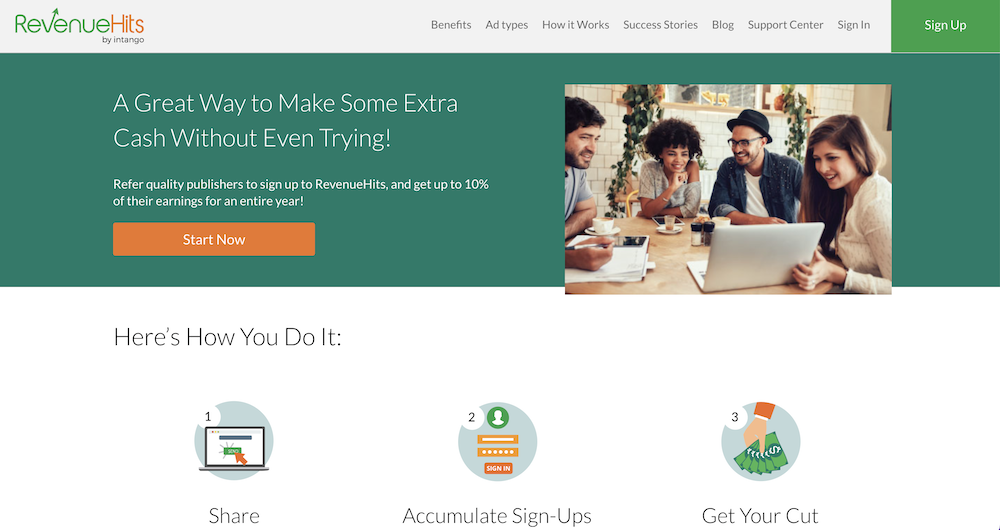 Revenue Hits features
5-10% referral earnings for the first year
Big choice of ad formats and sizes
Displays ads from well known major ad platforms
Microsoft Ads affiliate program
Microsoft Advertising is the second biggest search engine provider (or is that third or fourth, if you're taking YouTube and TikTok into consideration), offering Bing and Yahoo! as part of their paid search and display ads.
As an affiliate marketer, you can earn a payout by referring qualifying advertisers to use the PPC network.
The Microsoft Ads affiliate program is available on Commision Junction, now known as CJ.com. So you will need to sign up there before you access the affiliate links and details.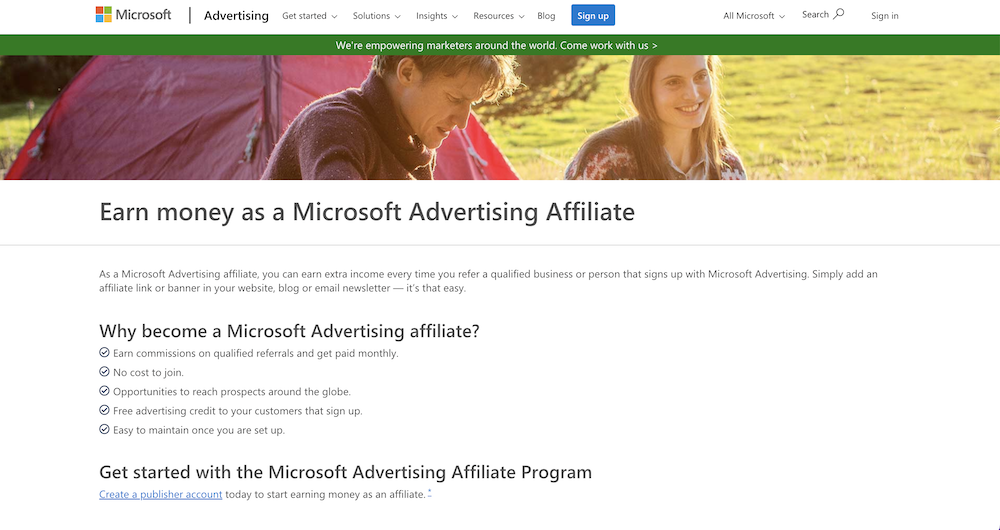 Microsoft Ads features
14 day cookie
Earn a cut of your referred advertisers budgets
Popular search engine platform with huge reach
Referred advertisers are given $100 to get started
Trade Tracker
In the world of pay per click affiliate programs, there are several platforms for affiliate marketers. Trade Tracker is just one, but it's a good one. Although they don't offer many marketing products, they do offer a variety of quality affiliate programs in popular niches such as travel, home and garden, and fitness/health.
And with a 4% payout on affiliate earnings, you can make some great passive income as you build your list of affiliate referrals.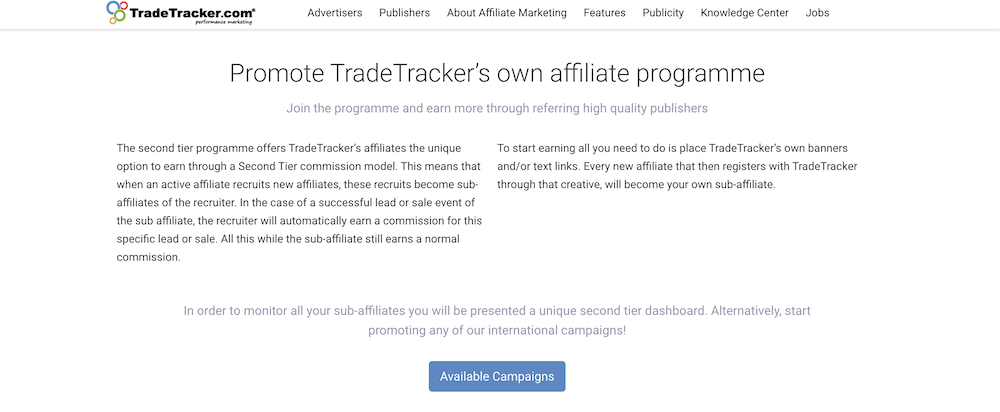 Trade Tracker features
100 day cookie duration
4% payout om affiliate earnings
Lots of other great PPC affiliates to choose from
PPC products and services
As part of the world of PPC advertising, there is a huge array of services that you can promote as an affiliate. These are tools that can be used to do keyword research, monitor PPC ad performance and create important elements such as landing pages.
ClickCease
The issue of fake traffic clicking on ads is a major headache for marketers, and one that costs advertisers a lot of money each year. Known as click fraud, it's estimated that at least $40 billion is wasted every year from fake traffic such as bots. ClickCease offers the number one solution for click fraud prevention, and is the professionals choice for fraud blocking.
ClickCease is an easy to use SaaS. And, as a solution to the problem of click fraud, it's a product that marketers can easily promote due to the money savings and the promise of an improved CPA.
With a 30 day cookie duration and a recurring commission rate of 20%, ClickCease offers an appealing PPC affiliate program for publishers and marketers.
Find out more about the ClickCease affiliate program here.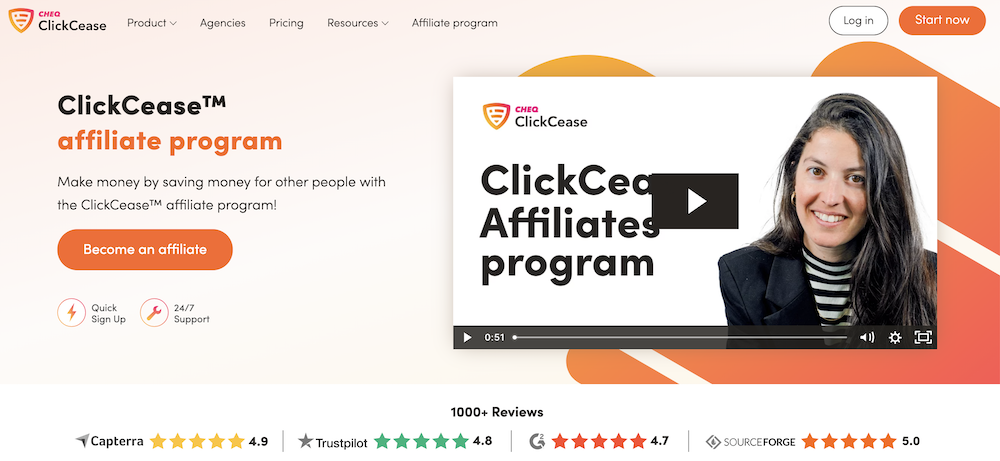 ClickCease features
30 day cookie
Recurring commission of 20% for each referral
Attractive add-on for PPC advertisers
SEMRush
SEMRush is one of the most popular premium tools for keyword research and monitoring PPC ad performance. Their PPC affiliate program is hosted by Impact, and offers a tiered payout based on the subscription plan that you refer.
Of course SEMRush is one of a selection of invaluable marketing tools, so it's an easy sell, especially if your market is early stage businesses or solopreneurs. And as SEM Rush appeals to both PPC and SEO marketers, you also have a naturally broad demographic you can target.
As for affiliate earnings – you're looking at $10 for a trial and $200 for first registration. No, there is no recurring revenue with this campaign, but you already have multiple referrals, right?
SEMRush features
Popular and well known PPC software
Affiliate program is hosted by Impact
One-time payout up to $200 for subscriptions
Cookie duration 30 days
Adzooma
Offering an all-in-one digital marketing management package, Adzooma is a tool to optimize PPC ad campaigns, social media ads, and it even helps with SEO too.
Adzooma helps manage everything from PPC ad listings and optimization suggestions; to winning more customer reviews and even analyzing your landing pages. Affiliates targeting business owners and marketing professionals
For the affiliate program, users can sign up on the Adzooma site. Affiliates who use the Flex Offers platform will also find Adzooma there.
Adzooma features
Affiliate payout starts from $30, up to $500
Sign up on Flex Offers or directly with Adzooma
Complete marketing package is attractive for both PPC professionals and SEO
Lumen5
As many marketers will tell you, video content is where it's at. But creating quality video content for your social media ads or even as landing page content, well… It can be costly and time consuming. Which is why Lumen5 is a great product to promote as part of a PPC affiliate marketing campaign.
Some of the cool features include the ability to easily turn Zoom meetings or slide decks into captivating video. Video content ads for social media sites is the most obvious use case, but Lumen5 can also be used to make your web page content more engaging and improve conversions on PPC landing pages.
And although there is a free level to entice casual users, the referral rewards are very appealing, with 40% for monthly plans or 4% for annual as well as 16% on additional sales. The Lumen5 affiliate marketing program is managed by Flex Offers.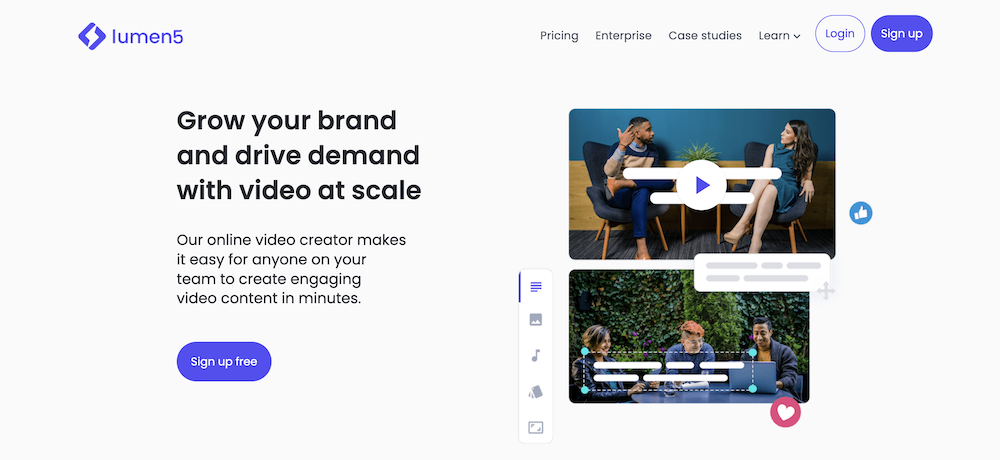 Lumen5 features
30 day cookie duration
Earn up to 40% on referral sales, plus 16% on additional sales
Attractive and user friendly product is ideal for promoting to business marketers
Unbounce
Landing pages are one of the key elements in successful PPC marketing, and Unbounce is one of the best known brands in the space.
As well as making it easy to create drag and drop landing pages, Unbounce also features AI content writing, email form signups, performance tracking and other cool features. The Unbounce affiliate marketing program also offers very enticing rewards for PPC affiliates with 20% recurring lifetime revenue.
If you're running a PPC affiliate marketing website then Unbounce is a good way to monetise your content.
Sign up for the Unbounce referral program here.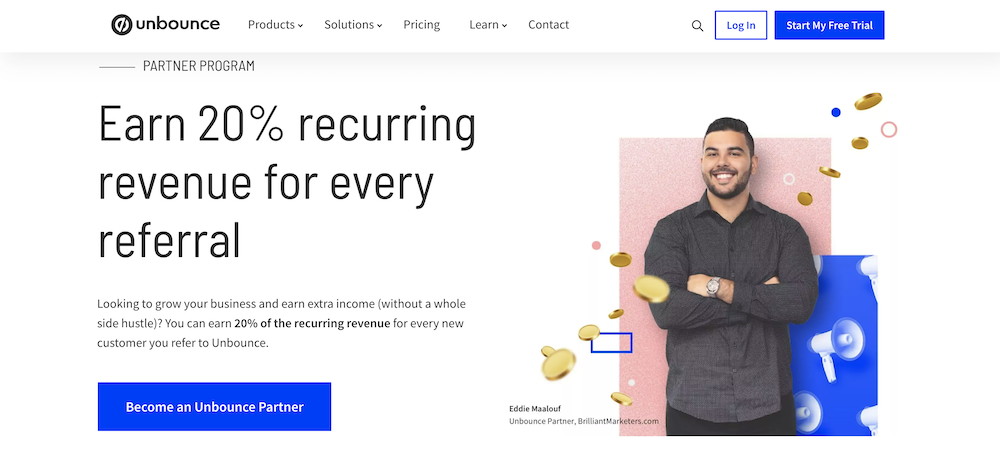 Unbounce features
30 day cookie tracking
Earn 20% recurring revenue for each referral
Popular product is easy to promote
No traffic or site requirements for signup
Hubspot
As an all in one marketing platform, Hubspot is an attractive package for both business owners and PPC affiliate marketers. In case you're not up to speed, Hubspot offers a pretty comprehensive CRM platform to manage your email campaigns, SEO, lead magnet marketing and even your PPC ads.
Design and create landing pages, manage and edit email signup flows and get exceptional analytical data about your marketing campaigns.
Because Hubspot is so comprehensive, there is definitely something for everyone. The PPC affiliate marketing program is also very attractive for publishers, offering up to 100% commission on referrals! Yup – a very headline grabbing offer.
What this actually means though is that you can choose 100% of the first month's sales, OR 15% of recurring revenue. On their site, Hubspot claims that the average payout for affiliates is $276. Multiply that and you have a very appealing source of passive income.
Sign up for the Hubspot affiliate program here.

Hubspot features
Comprehensive marketing tool is easy to promote
High value subscription
90 day cookie duration
15% in recurring referral commission for up to 1 year
Making money with affiliate marketing
The key to making money with affiliate marketing is to create useful content for a targeted audience. This means that you'll need to have a clear idea of who you're talking to, and to give them the information they need to make a decision.
When it comes to PPC affiliate marketing, this means offering an honest opinion about the features such as reviews; or clear instructions about how to use these PPC programs; or an in-depth guide to improving their income with PPC affiliate programs.
Like most things related to marketing, consistency in both your content creation schedule and brand voice will reap dividends. Affiliate marketing can also take time to deliver results, as it relies often on organic web traffic.
Running ads for affiliate marketing
If you're considering running PPC ads for your affiliate marketing website, this is a popular option. However it's worth noting that many PPC affiliate programs don't allow you to bid on their keywords. So if you're planning to run ads to boost your exposure, make sure to read the terms of your chosen affiliate partner.
The best way to run ads for affiliate sites is to focus on offering the information. For example a 'Best PPC tools guide' or a free downloadable ebook about setting up your PPC advertising campaigns (with affiliate links inside the content). This way you avoid bidding on branded keywords and falling foul of your pay per click affiliate programs t&cs.
If you're running ads for your website or your business service, either on Google Ads or Meta for Business/Facebook Ads, make sure to use click fraud prevention to block bots and fake traffic. Invalid traffic, aka click fraud, accounts for around 15% of all paid clicks which obviously wastes your ad budget and skews your marketing metrics.
Try ClickCease for free for 7 days to find out who really clicks your ads – and protect your PPC ads from fake clicks.