Eagle-eyed SEO marketers may have noticed this tweet from Dallas-based digital marketer Chris Silver Smith.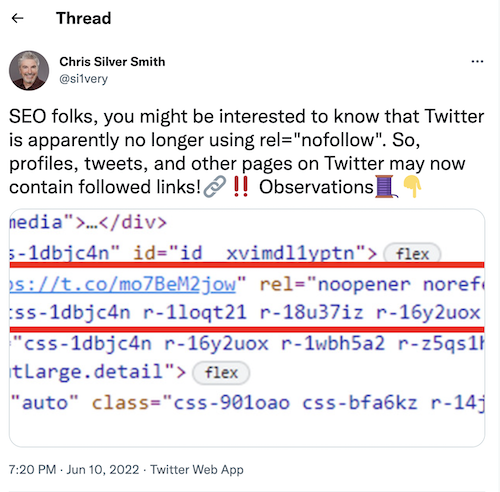 Yup. Twitter has apparently removed the nofollow tag in their source code, meaning that backlinks from Twitter are now dofollow as standard.
And, as Twitter is a high authority source, these backlinks might be very attractive to organic link builders and social media marketers. Good news, right?
Before we jump to any conclusions about whether Twitter is now a goldmine for dofollow backlinks, let's take a deeper look at what's happened during 2022 with Twitter (so far).
The Elon Effect
In early 2022, Elon Musk started making rumblings about getting involved in Twitter. Anyone who has paid any attention to Elon Musk, Twitter, or the world of crypto, will be aware that Mr. Musk is a prolific user of the platform.  
His engagement with a project on Twitter can often be the Midas touch. An example of this is the crypto meme project Dogecoin which resulted in huge spikes in price.
At first, Musk started building up his stake in the platform. He then announced he would become a board member before changing his mind and launching a surprise bid to buy Twitter instead.
And this is where the story gets interesting, at least for marketers and those of us looking at ad fraud.
Elon's bid to buy Twitter was held up by his insistence on finding out about the amount of bot traffic on the platform.
Twitter's claim of 5% always seemed unlikely – anyone who uses Twitter has probably spotted bot accounts, and the issue of troll farms and fake news is no secret.
Analysis by CHEQ found that the bot traffic on Twitter was closer to 12%.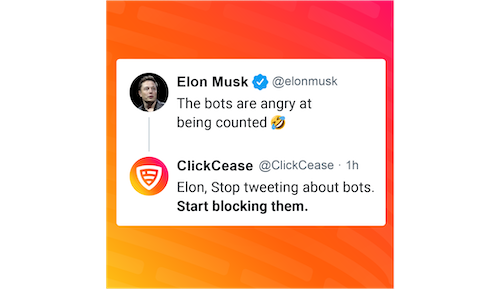 And considering that CHEQ's analysis only looked at traffic from Twitter to another external website, the truth is that the bots who don't even leave Twitter are likely much higher.
What are Twitter bots?
The most common form of bot on Twitter is the type that automatically retweets based on trigger keywords or hashtags. There are also similar bots that post comments on Tweets, also often triggered by specific keywords.
Other common Twitter bots include:
Spam bots
Follow/unfollow
Data scraping bots
Fake accounts
Of these, the most infamous is probably the fake account. 
Often associated with trolls, fake Twitter accounts are known to have been used for spreading misinformation and disinformation. From climate change skepticism and Covid-19 to Trump and Ukraine, these fake accounts are often operated by organized entities with a vested interest in influencing opinions.
The Russian Internet Research Agency is probably the best-known of these. But there are plenty of other malicious actors on the internet, specifically on Twitter.
Spam bots are also a regular annoyance for anyone who uses Twitter. They're often used in an attempt to scam Twitter users, for example, tweeting them in 'Bitcoin giveaways' or pretending to be high-profile accounts (such as Elon Musk) and messaging users about how they've won money.
Is this an issue with regard to dofollow links? For most marketers, probably not.  
The value of a Twitter dofollow link
For most content managers and digital marketers, a dofollow link from Twitter is a nice little surprise. Despite this, it still depends on Google how much influence a dofollow from Twitter will affect your search rankings.
Google can still choose to ignore ranking signals such as this from Twitter. To add to this, Twitter has made no official announcement about removing the nofollow link command so far. There are a number of theories about why the change from nofollow to dofollow took place.
Was it a decision based on Musk's interest in the platform? A covert change by a rogue developer? Or an error as a result of a software update…?
Whatever the reason, many marketers think the change might be short-lived. With the high volume of links from Twitter, the issue of link spam is a genuine concern for many.
So although there are several reasons to use Twitter to promote your best content, the backlink juice is probably not going to be a major factor.  
Put simply, don't change your SEO strategy to accommodate the change from nofollow to dofollow.
Bot traffic protection
One of the issues that Elon's interest in Twitter has raised is that of bots. Although most of us are aware of the challenge of bot traffic in our marketing funnels, the exact amount is more of a mystery.
Here at ClickCease, we routinely block around 14% of traffic on paid links as fraudulent. This includes a large number of bots and competitors or Google Ads and fake accounts on Facebook/Instagram Ads.
Read more about click fraud in our guide…
Our new Bot Zapping tool also blocks organic traffic, such as referrals from social media backlinks.
Traffic from Twitter to an external website would count as organic traffic, and this traffic can include malicious bots such as spambots, data scrapers, and malicious botnets. This also occurs whether the link is dofollow or nofollow – these bots don't care.
For professional marketers and business owners, using a security layer for your website is no longer seen as an optional extra.  
Protect your marketing funnels, both paid and organic, with ClickCease.
Try out our 7-day trial to get unrivaled insight into your site visits.