Affiliate marketing has grown from fringe side hustle to one of the most popular ways to make money online. And with the potential for almost anyone with a website to generate a great source of recurring revenue, it's not hard to see why.   
In 2020, the total value of the affiliate marketing industry was estimated at $17 billion. And as the world of work-from-home solopreneurs and digital nomads continues to grow, the forecast for affiliate marketing as an industry looks bright.
So you've chosen your path as an affiliate marketer; you have your niche, your website, and (hopefully) some content strategy. But waiting for your organic traffic to kick in can be a lengthy game – so what's a savvy digital marketer to do?
Enter paid traffic sources.
There are various options for paid traffic sources for affiliate marketing, and we're going to summarize the pros and cons of each in this post.
Before we look at the platforms, though, we're going to look at the world of paid traffic.
What is paid traffic?
Paid traffic is any form of website traffic that has been purchased by the advertiser. There are various forms of paid traffic available for digital marketing, with various benefits for each. The typical model for paid traffic is either using Pay Per Click (PPC) or Pay Per Thousand impressions (CPM, or cost per mille).
However, there are also other forms of paid traffic, including:
Pay Per Click (such as Google or Bing Ads)
Social media ads (Facebook, TikTok, etc.)
Influencer marketing
There are also some more black hat methods of using online traffic, such as buying bot traffic or cookie stuffing. Although these do count as a form of paid traffic, they fall under the banner of fraud, so we will not be looking at these as an option for marketers in this post.
Do you need to use paid traffic for affiliate marketing?
Most affiliate marketers will focus on search engine optimization (SEO) and build up their content to win organic traffic. Some may prefer to focus on social media followers or a combination of the two. As these can both be lengthy processes, paid traffic is often seen as a way to boost their project.
In short, no, you don't need to use paid traffic to generate traffic on your affiliate marketing project. But it can be useful as part of an overall content strategy.
Some affiliate marketers will not use any paid traffic.
Others will swear by it. It might depend on your niche, the value of each conversion, the competition, and even your own personal business goals.
Some things to bear in mind about paid traffic and affiliate marketing
When it comes to paying for traffic for your affiliate website, most businesses will have certain terms and conditions. Most often, these are common sense or standard practice, such as:
Don't click on your own affiliate links
Don't bid on branded keywords or certain keywords that put you in direct competition with your affiliate
Using fraudulent processes such as fake traffic or cookie stuffing is normally forbidden and will likely result in a ban
Don't try to imitate the business under your own affiliate banner
Every affiliate will have different terms, so be sure to check your own conditions before running any pay-per-click (PPC) ads or paid campaigns on your affiliate site.
So…
Let's get down to the important part.
What are the best-paid traffic sources to boost your affiliate earnings?
Google Ads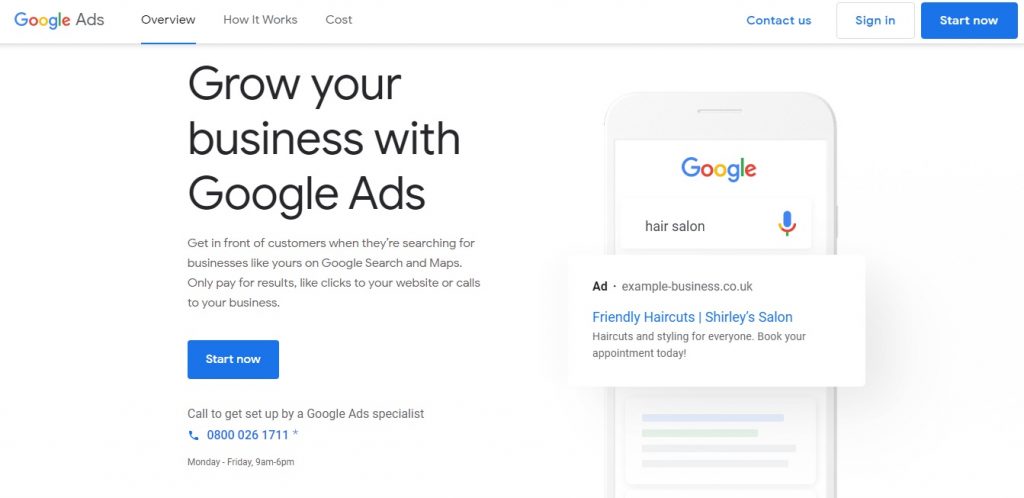 They don't come any bigger than Google. With the biggest global reach, the biggest number of daily users, and the biggest selection of publishing partners, Google Ads is a no-brainer for pretty much anyone looking at paid traffic.
Using Google Ads obviously gives you access to paid search results.
But you also have access to a world of possibilities within YouTube, display and banner ads, video ads, Gmail banners, in-app display banners, and more.
In fact, we could cut this list off right now, and you would probably be perfectly happy to go with Google. Such is the huge reach of Google Ads and the options for advertising that whatever you're promoting will find an audience right here.
That's not to say there aren't any downsides, though.
Although Google likes to sell the Google Ads product as user-friendly and easy to start, there is a learning curve. Creating high-performing ads is not something you will be able to do overnight – why do you think there are so many search engine marketing agencies?
Google Ads is often seen as very competitive and increasingly expensive. Popular keywords can be incredibly expensive, and there aren't even any guarantees about conversions.
Increasingly, marketers are also aware of the issues of click fraud and ad fraud. This is the act of fake clicks on paid ads, which is a costly and wasteful process that has been steadily increasing year after year.
Despite these problems, though, there is no doubt that Google Ads offers some of the best opportunities for paid traffic at what is still a very attractive price point for most.
The benefits of Google Ads
Easy to set up and run your Google Ads within a few minutes
A huge audience (the biggest online)
Almost unbeatable choice of products, from paid search results or display ads to YouTube
Manage your budget easily to avoid overspending
Tools like Performance Max take the hassle out of setting up and running campaigns
The cons of Google Ads
Very competitive for many popular keywords
Not as easy to set up and run as you might think
Steep learning curve
It can be expensive if you don't know what you're doing
Exposure to click fraud affects about 90% of ad campaigns
Facebook Ads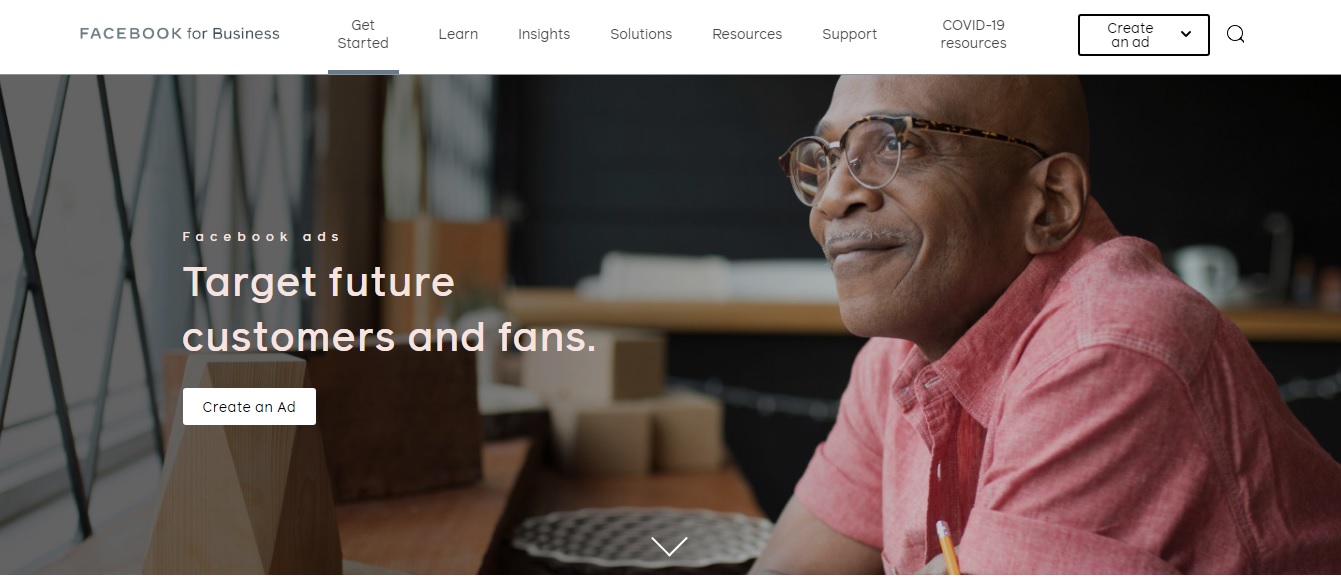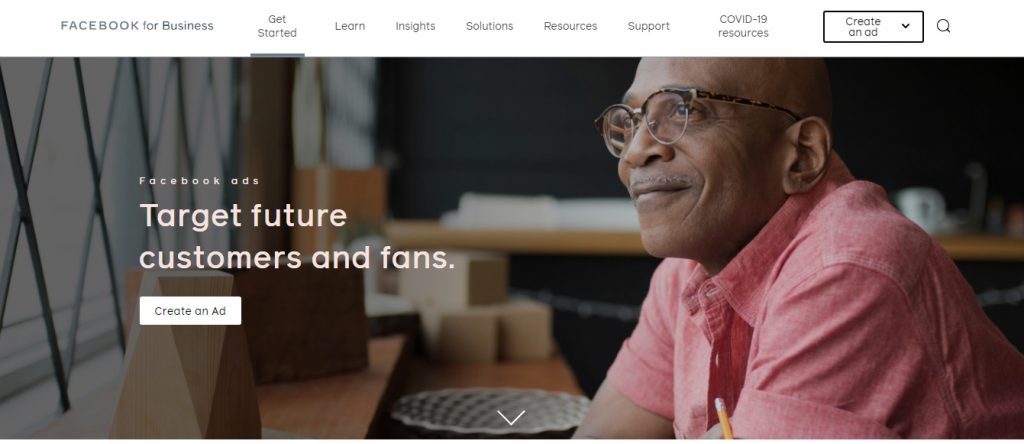 Yes, we know they're called Meta now. But the platform of Facebook itself is still an excellent digital marketing tool and still one of the best sources of paid traffic. OK, it's not the force to be reckoned with that it was pre-2020, but there is still gold in these digital hills (obviously, I'm speaking figuratively here).
Using Facebook Ads lets you run in-feed ads within Facebook itself and also run ads on Instagram and Messenger as well (We'll look at Instagram specifically in just a moment).
You can also promote your company page, collecting reviews and even winning organic likes, or if you have an organic post that has done well, you can pay to boost it to an even bigger audience.
Facebook can be very useful as a retargeting tool, displaying content in-feed to people who may have already visited your site or that of a competitor. This alone makes it a very cool marketing tool that pretty much every marketer needs in their arsenal.
Facebook targeting is done almost entirely by the platform itself, though. You do have the option to set up your own custom audience, but by and large, Facebook will use its own algorithms to find your ideal target audience.  
For some, though, Facebook is seen as a bit passé. If millennials flock to Instagram and Gen-Z flock to TikTok, Facebook is often seen as the controversial uncle at the dinner table – which might be due to some of the many controversies that have hit the company now known as Meta.
Apple also dealt a fairly hefty blow to Facebook's ability to target iOS users by limiting tracking on their devices. And yes, it has had an effect.
As for fake traffic? Yes, that's a problem here too. Around 90 million Facebook accounts are thought to be fake, which also affects paid marketing campaigns.   
The benefits of Facebook Ads
Access to one of the biggest social media networks (plus they own one of the other ones too)
In-feed ads offer lots of scope for creativity and engagement, especially visual/video-based ads
Options to promote a company page or boost posts too
Great for retargeting and remarketing campaigns
The cons of Facebook Ads
Issues with targeting iOS/Apple users have come as a blow
Facebook is often subject to controversies around its handling of data
Younger audiences are increasingly looking to other social media platforms
Fake traffic is also a problem for Facebook Ads
Instagram Ads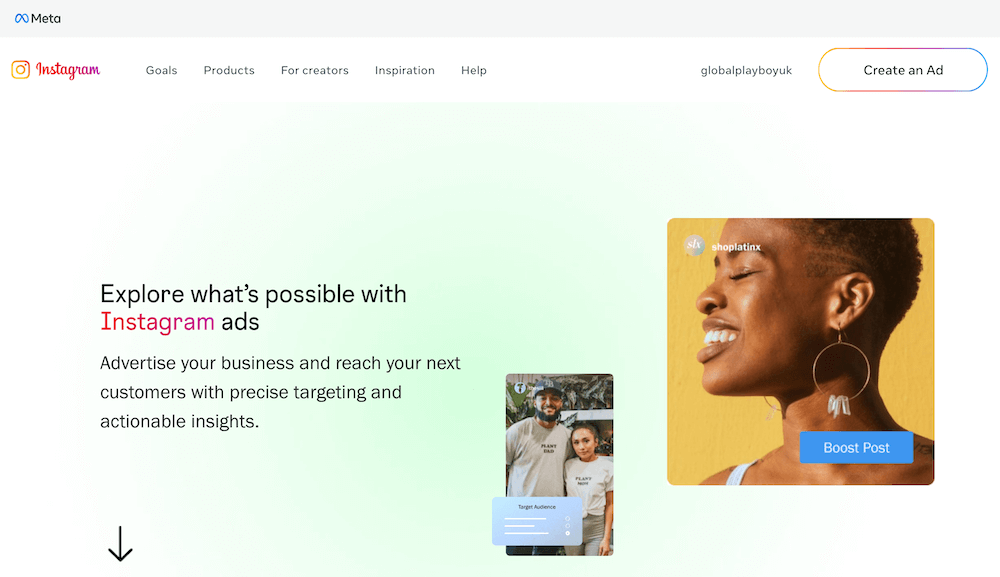 Social giant Meta also owns the second biggest social media platform (or third if you don't count YouTube). And for affiliate marketing, Instagram has become a top choice.  
The best way to get a consistent stream of website traffic from Instagram is, of course, to build your following and post consistently. Most businesses these days will factor in Instagram as part of their content marketing strategy. But, like most organic things, it can take a lot of time. This is where Instagram Ads is a useful tool.
Advertising on Instagram offers a choice of display options, including in-feed posts such as videos, product carousels, and more.
And although Instagram makes it difficult to add links to external sites in organic posts, with paid ads, you can add those website links and drive traffic.  
Instagram also offers the option to make shops for affiliate creators. Meaning that if you're promoting a specific type of product, you can get your store set up right there on the platform and drive traffic there.
While setting up the shop is free, you'll likely need to promote that shop with paid ads on Instagram.
If you're wondering what's the downside to using Instagram Ads, well…
Instagram is primarily an image-based platform, meaning your ad copy and CTA might be missed. Products with a strong visual appeal should do well, but campaigns that need content and context might need to up their game to get the engagement they're looking for.
The iOS update affecting Facebook also affects Instagram, meaning less reliable targeting for advertisers using Instagram.
Once again, the issue of fake engagement and bot accounts remains a concern on Instagram, with around 1 in ten Instagram users thought to be fake.
And another issue is the limited audience on Instagram. While there is a huge audience, over 2 billion accounts, the majority are in the 18-34 age range. This makes it perfect for targeting the millennial and Gen-Z pool but not so good for your older clientele.
The benefits of Instagram Ads
Strong visual appeal can be great for some products
The option to open a shop front is also a great benefit for affiliate marketing
Good selection of ads, from in-feed posts to stories and reels
Using Instagram Ads allows you to add links to your website to drive traffic
The cons of Instagram Ads
Tracking and targeting Apple users on Instagram has been affected by iOS 14 update
Ads with text might struggle to perform well
Audience is a little limited compared to Facebook Ads
Facing competition from TikTok for market share
TikTok Ads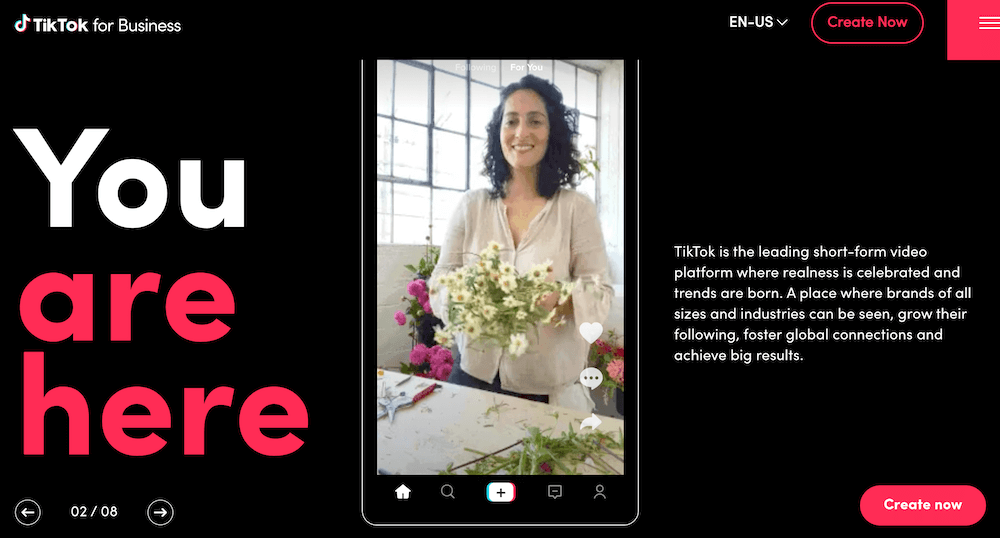 No list of paid traffic sources is complete without looking at the rise of TikTok. In 2020, TikTok took the world by storm as we found ourselves locked down and looking for entertainment during the Covid pandemic. Fast forward to 2021, and reports that TikTok had overtaken Google as the most used search engine started to appear.
While TikTok hasn't yet dethroned the search giant, it remains a formidable option for marketing to its very engaged audience.
At the moment, the options for TikTok ads are relatively limited, with just sponsored reels. This means you'll focus mostly on mobile video advertising, which is the most engaging form of content on TikTok.
Compared to Instagram, TikTok offers fewer ad formats. It also has a more limited audience, with most users under 30 and the biggest chunk of that slice being under 20.
You might also assume that TikTok is more affordable than Instagram, given its status as an underdog. However, most reports show that TikTok Ads are around the same price, if not slightly more expensive, than the Facebook-owned rival.
The benefits of TikTok Ads
Popular platform rapidly growing in appeal
Great for targeting the Gen-Z and Millennial (under 30) audience
Easy to create your own branded channel and partner with influencers on the platform
Excellent for video and other visual-based campaigns
The cons of TikTok Ads
Not as many ad format choices as rivals Instagram
No shop option
Limited audience and still less reach than Instagram
Pricing is similar to rivals
Native Ads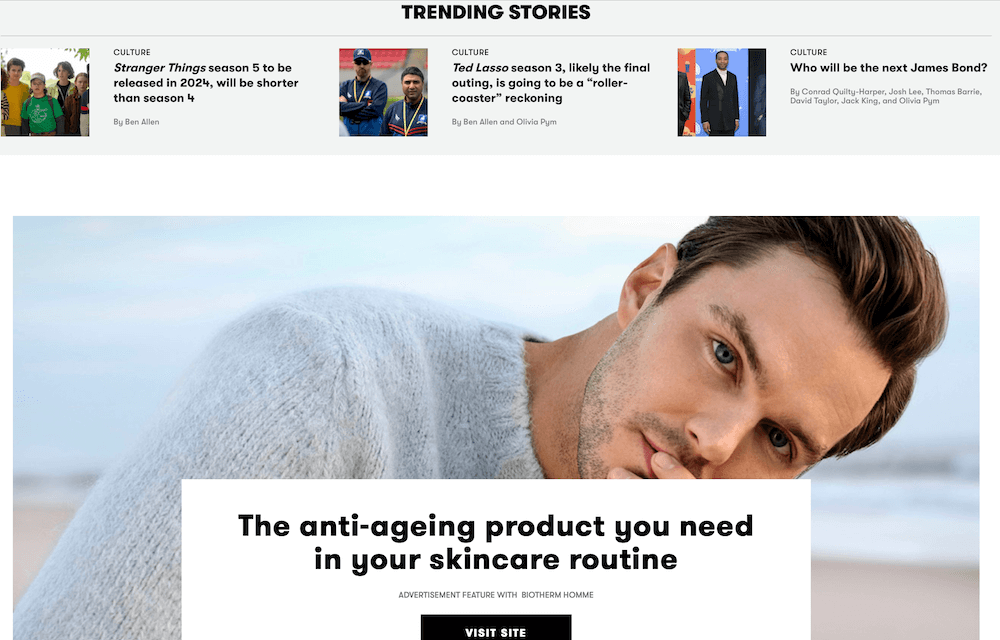 Native ads have become a popular method for affiliate marketing professionals to get eyes on their products. These paid ads are designed to look like organic content, usually articles on news sites or popular blogs.
So why use native ads for affiliates?
For starters, sites hosting native advertising are usually high-traffic websites – so you're getting a lot of eyes on your content.
Secondly, native ads tend to be relatively affordable. As they usually work on a CPM (impression-based) model, you can potentially get lots of exposure for your budget.
Of course, this means you must create engaging content to deliver those clicks and impressions. In fact, native ads usually focus more on informing and educating, which means they can be useful for products that need a little more explaining. And yes, you can use various formats such as video or images as well as text.
According to data from ad giant Taboola, native ads can also deliver better click-through rates versus display ads.
Native ads are also a popular option for industries that are either restricted or outright banned from PPC ads. For example, CBD, gambling, or adult products.
Several different ad platforms can serve native ads, but the most popular is Taboola. Other options include Yahoo Gemini, Outbrain, RevContent, and Nativo, among many others.  
So what's the downside of native advertising?
Advertisers have less control over their targeting and ad optimization. Ads are generally placed on the publishing partners' sites, and it can be hard to determine which placements perform best.
Traffic quality can also be inconsistent, with some sites, even well-known and popular publishers, having high volumes of fake traffic.  
Creating content for native ads can also be more complex and tricky for advertisers. It's not just a case of putting together a blog post, and voila… You'll need to understand when and where to pop in a CTA, the types of headlines that can work to attract clicks without seeming too clickbaity, and even how to design and create a good landing page to improve your conversions from these types of ads. 
The benefits of Native Ads
Perfect for products that need explanations or information to improve conversions
Getting your content seen on high-volume publishing sites can be great for traffic
A useful ad option for restricted industries
The cons of Native Ads
Targeting and tracking data isn't as simple as with Google
Some people see native ads as clickbait spam or deceptive
Traffic quality might not be as high quality as you expect
Influencer marketing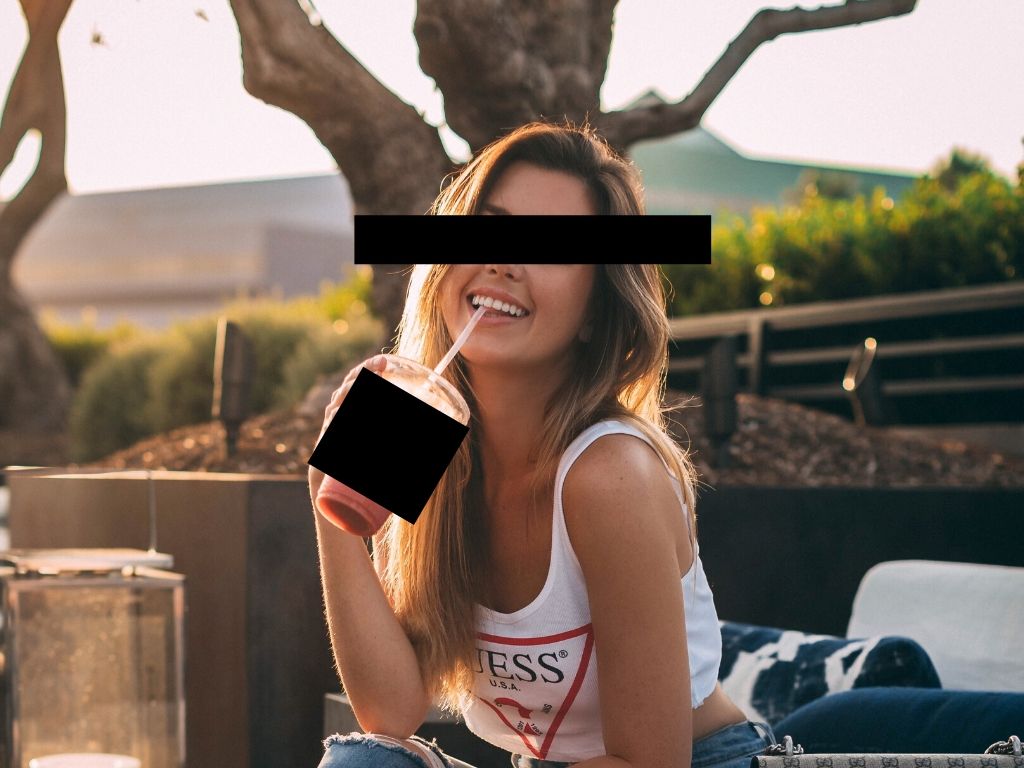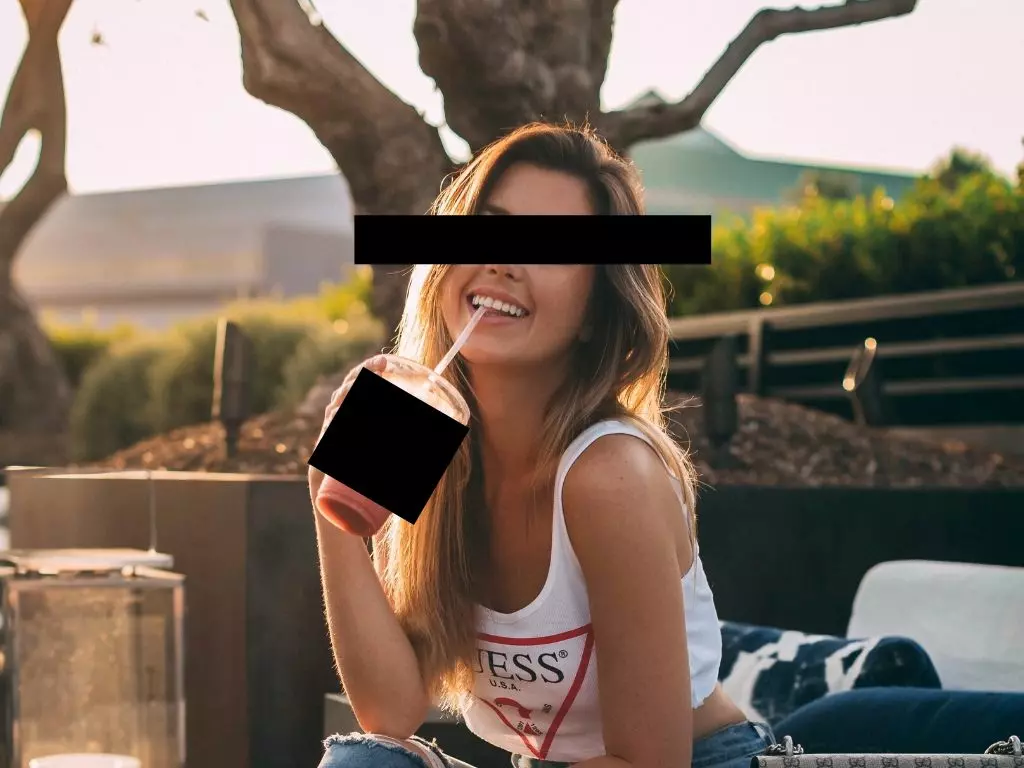 Partnering with an influencer has become a popular way for brands of all kinds to improve their visibility. And it can be a relatively cost-effective way to get seen and even get some website traffic.
Some influencers charge under $200 to feature your product in their posts, others might simply feature you for freebies. It does, of course, depend on your product, its audience size, and a multitude of other factors.
But as a cost-effective marketing strategy, influencer marketing can be rewarding. As most influencers are using social media, it falls (sort of) under the heading of social media marketing. After all, they'll most likely be talking about your product on Instagram or YouTube – although some might also feature you in their website content.
And according to research, more than half of users on most social media platforms have gone on to purchase an item as a result of influencer endorsement. In fact, with TikTok users, that percentage is as high as 71%!
So what's the bad news?
Tracking conversions or even traffic from your influencer partnership can be tricky. Unless they use a custom URL (which is obviously an option), you might not know whether this paid traffic campaign really worked.
Many influencers also have a large proportion of fake followers. Yes, even the biggest influencers have something in the region of 20-40% fake followers on their social accounts. While this might not be a problem so long as you get genuine traffic, smaller influencers might inflate their prices based on inaccurate metrics.  
The benefits of influencer marketing
Potential for exposure to a huge audience
Can provide an excellent boost to your social media growth
'Social proof' is valuable to modern consumers, and influencers provide this in spades
Can be relatively cost-effective for the right partnership and placement
The cons of influencer marketing
Can be hard to track the performance of influencer ad campaigns
Hard to verify the quality of the influencer audience
The benefits of partnerships with influencers can be short-lived
Audience size is limited to the influencer's reach
Choosing the best-paid traffic strategies
The best-paid traffic sources for your affiliate marketing business will obviously depend on your business, your strategies, and your budget. For some, Google Ads will be all they need to run a great paid ad campaign and bring in loads of high-quality traffic.
For others, they might need a mixture of social media advertising and other ad campaigns to get the best conversions for their affiliate campaigns.
To summarize:
Consider your audience. Younger consumers will likely prefer social media, whereas a B2B audience might need a different approach.
Is your campaign visual or informational? Are you educating your audience or trying to trigger the 'I want that' reflex? Social media works best for visual campaigns, whereas paid search, display, or native ads will work best for educating your audience.
What is your competition like? Bidding on high-value keywords on Google Ads can get expensive, so other traffic sources can be very useful for stealing an edge over your competitors.
Using multiple marketing channels is often the best way to expand your audience – but…
Be careful of your budget. Paid traffic sources can soak up a lot of your business funds.
Fake traffic, such as click fraud and ad fraud, can be hugely wasteful, costing advertisers an average of 14% of their PPC budget. Use protection!
Getting the most from your PPC advertising
Blocking fake traffic and fake audiences from paid marketing is a key strategy for professional marketers. Click fraud and ad fraud wasted an estimated $61 billion worldwide in 2022, making them the most profitable form of fraud – eclipsing even credit card fraud.
As an advertiser, using click fraud prevention is a must.
ClickCease offers the industry-leading click fraud blocking tool, preventing bots and fake traffic from interacting with your affiliate ads on Google, Bing, and Facebook Ads.  
Our new bot-blocking tool also stops bots from clicking your checkout or filling out forms on your WordPress website.
Best of all? You can try ClickCease for free for 7 days and do an audit on your paid traffic.
Sign up today.