Tailored to Your Business
Not all businesses are alike, and neither is all fraud. Our custom features will ensure a higher level of click fraud filtering. Geo Targeting, Device Detection, Custom Thresholds and more.

Insightful, Actionable Reporting
Access your robust click fraud reporting dashboard. View the details of each and every click and monitor your campaign health such information such as: browser, device, location, ISP, keyword and much more.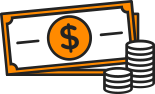 No money left on the floor
Filing for a Google Ads refund is a complex process. Our refund claim agent will file a request to Google automatically on your behalf every couple of months.