If you're looking to maximise your business exposure online, you've most likely considered creating a display campaign with Google Ads. Formerly known as Adwords, using a Google Display Network ad is a formidable weapon in your online marketing arsenal.

Reaching around 90% of all internet traffic, these highly customisable display ads are close to unbeatable when it comes to marketing reach. There are around 2 million websites in the Google Display Network which are available for your ad placement, including some of the most visited sites such as YouTube, Yahoo, CNN, Bloomberg, TechCrunch, Wired and TripAdvisor.

This incredible reach is one of the main appeals of creating display ads, although there are both advantages and disadvantages to using the Google Display Network.

Are Google Display Ads right for you?
Before we answer that question, we'll take a quick look at what Google Display Ads are. Put very simply, websites can sign up to be part of Google's Display Network and then offer site real estate to display your image ad. These can be either a section across the top of a website, or down the side of the page, or sometimes they can be displayed within the site content.

Of course, you'll have seen these ads before, and perhaps noticed that they seem to mysteriously match your current interests or shopping habits.

Although the vast majority of sites on the Display Network are genuine, there are also a few shady site owners who are just looking to siphon off your advertising dollars; a practice called Ad Fraud.

However, the benefits of running a Google Display Network ad campaign are:

Access to a huge audience beyond just search engine pages
Cheaper cost per click than SERPs
Opportunity to add eye-catching imagery or video
Different variety of pricing models
Opportunity to set up remarketing campaigns
So, all of that might seem appealing. But what about the cons of running a Google Display Network ad campaign?

You don't get to choose the sites where your ad is displayed
Can be harder to choose your target demographics and audience
The potential for ad fraud/click fraud
Let's assume that you've weighed up the pros and cons of running a display ad campaign and you've decided it's the right thing for your marketing goals…

The different types of Display Ad
To create a display ad in Google Ads, you'll be able to customise the content based on the following formats.

Responsive Display ads
When creating a responsive display ad, you add the content, including the text and the images. Google will then automatically create your ad to fit different sized and shaped placements across the web. What this means is that your ad could fit into a rectangle, small square or text box depending on the advertising space offered by a website.

Put simply, your content is adjusted to fit as many sites as possible while still keeping your branding, text and images. The theory is that your responsive ad will show perfectly both on a mobile device, or as a huge banner across the top of a page on desktop.

But how does it work? Google allows you to add up to:

15 images
5 logos
5 text descriptions
5 headlines
Of course you get to preview all of the variations that could be displayed to ensure they display exactly as they should.

The issue with responsive ads is that they aren't always perfect, with images squashed or text cut off on occasion.

Image ads
This is perhaps the classic version of the banner ad, a standard sized box which use either a static image, gif or flash.

But why would you use image ads instead of responsive ads? Put simply, you have more control over the creation of an image ad. Image ads can be created outside of Google Ads and then uploaded, which means that their display is more consistent across your campaign, or you can use the templates provided.

You'll still need to ensure that your ad fits the Google templates, or use the ad builder and free image library to create an image ad yourself,

Video ads
Exactly what it sounds like. Create and upload your video ad to see your video play either as an embed on certain sites, or played before (or during) other videos on sites like YouTube.
Shopping ads
If you're selling products then you can use the shopping option to list specific products. These can then be displayed as part of sponsored shopping ads, often inside Google's own 'shopping' results, but also on partner websites.

App ads
Promoting an app? There is a specific display network ad for app ads which promotes your app both on partner sites and in the Google Play store.

Gmail ads
You can also create an ad that sits inside the Gmail inbox and looks like an actual email. Although it says 'Ad', once a user clicks on the link, the details expand including images and more detailed text.
How to create a Google Display Network ad
If you don't already have a Google Ads account, you'll need to sign up for one. Once you've signed in, you'll need to go to create a new ad campaign. This will usually take you through a process of setting up a Search Network (i.e; Google SERPs) ad, but to create one of the more advanced Display Network ads, you'll need to click the small blue text under the box that says 'experienced with Google Ads'.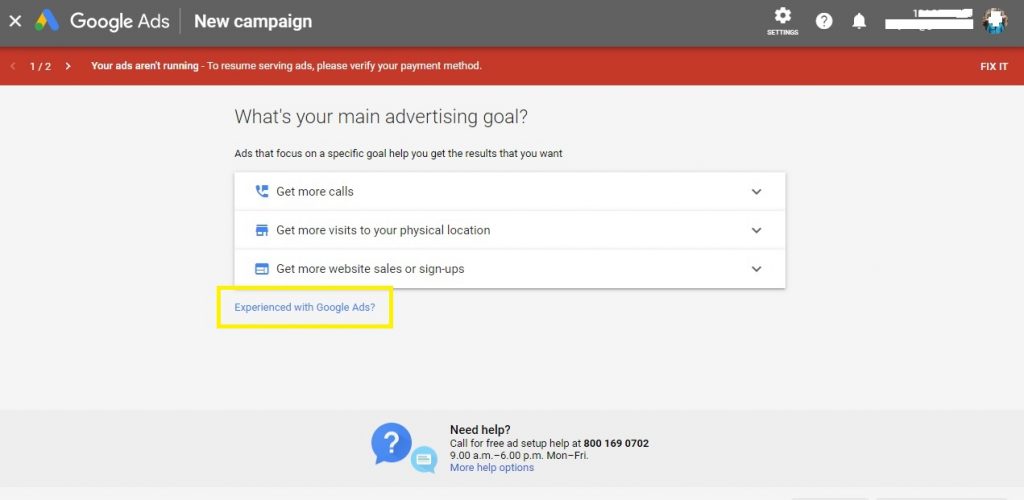 Choose your marketing goal
The next page will then ask you what your marketing goals for your ad are, which includes:

Sales (getting more people to buy your products)
Leads (encouraging people to take action and give their details)
Traffic (encouraging more of the right type of site visitor)
Product or brand consideration (giving people information about your product or service)
Brand awareness and reach (getting your branding out there)
App promotion (encouraging downloads of your app)
Having selected the option that best matches your marketing goal, you'll be presented with the option to create a corresponding ad.
Not all of the options above will give you the same options for running your ad. But, the options available are:

Search
Display
Shopping
Video
Smart
App
We've covered most of those categories above, except the 'Smart' campaign. Smart campaigns are a new feature, added in 2018, that is designed to make it easy to advertise across multiple channels. This can include using Google Maps, Display Network ads and Search Network ads.

Setting up your Google Display Ads
Once you've selected 'Display' you'll then have an option to choose from:

Standard Ad display
Smart Ad display
Gmail Ad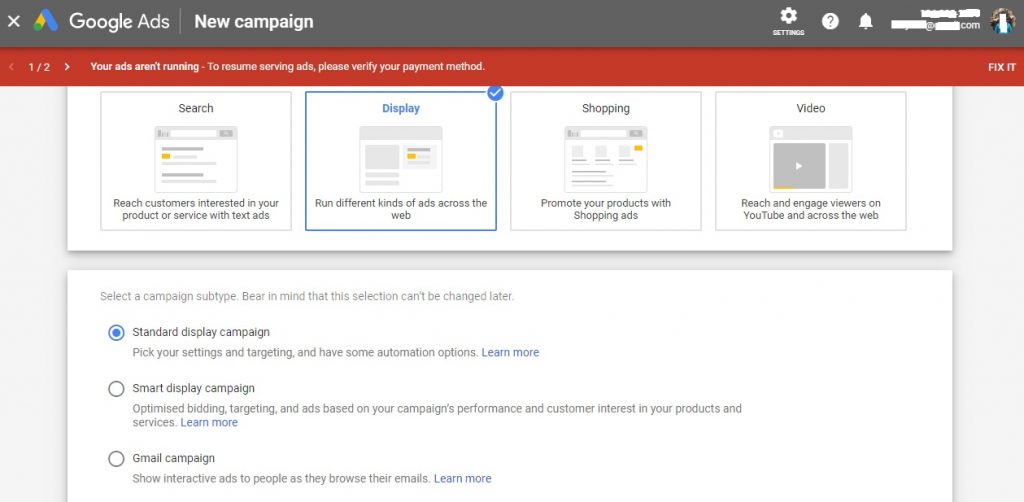 Choose one of these and you'll be taken to the campaign setup page. From here you can name the campaign, target specific areas, and set your cost per click as well as your maximum daily budget.

At the bottom of this page, you'll be given the option to create your ad. You can either upload your pre-made display ad, or use the builder to make a responsive ad using your choice of text and images. The builder also scans your site to find relevant images and logos, which makes it much easier if you have a lot of content uploaded.

The whole process is very intuitive and easy to follow, with Google offering lots of documentation in support. You can also choose from stock images, add custom logos, videos, gifs and other features to make your ad stand out.

Once you're happy with the way things are looking, just hit the 'create campaign' and you'll be taken to the next step. You can review the details of the campaign, and if you're ready to go, you can go to the dashboard to keep tabs on how things are moving along.

Tips for Google Display Network ad success
Let's be honest, we've all seen a lot of banner ads. How often do you click on them? In an increasingly congested online advertising market, getting those genuine clicks can be an artform in itself. If you're looking to ensure the best chances of success for your Google Display Ad campaign, follow these simple rules.

Include a high quality image, preferably with a face
Abstract shapes or inanimate objects are all well and good, but including a face will get more attention. It doesn't have to be human, but studies do show that ads including faces out perform those that don't. And, in case you're wondering, ads featuring women's faces are the most successful…

Give a clear CTA
What do you want people to do? Sign up? Get their free download? Buy it now? Whatever it is that you want your audience to do, make it clear with a call to action. A bold button, or big text spelling out the action that you want people to take is going to encourage more clicks.

Keep it simple
Don't try and cram too much information into your image ad. Blocks of text, complicated terminology and images that are perhaps too obtuse for most will just confuse your audience. Remember: you've got fractions of a second to get people's attention, so less is more.

Specific demographics
If you cast your net too wide, you'll end up spending a lot of money for not much gain. In the early days at least, focus on a specific area or age group. You can always tweak this as you go later on.

Use click fraud prevention software
Creating image ads is a great way to get your message out, but there is also a lot of potential for you to be defrauded. Click fraud prevention software, such as ClickCease, is one of the most cost effective ways to be sure that the only clicks on your ads are from genuinely interested people. No bots, click farms or web crawlers…
If you're creating your image ad, or wondering how to get the best value from your Display Network ad, take a look at how ClickCease can save your campaign!