The world's biggest ecommerce platforms are Amazon and Google Shopping. But it wasn't always this way. Google had the lead in online product searches as recently as 2016, but Amazon currently leads with around 54% of the market share. Now Google is fighting back.
In fact, Google has upped its game with it's Shopping platform in the past year or two. This is partly to redress the balance and try to win back some of the market share they've lost to Amazon.
During 2020 Google dropped their commission for sellers using ads on Google Shopping in the US. This is on the back of a 38% upturn in sellers turning to Google Shopping in 2019, with Google also seeing a drop of 12% on their paid search campaigns.
So, for retailers, is selling on Google Shopping something that you should be taking more seriously into 2021 and beyond?
What is Google Shopping?
When you think of the top spot on Google, you probably assume that the main result will be either a paid text search result or a well-optimised organic piece (or maybe a snippet).
However, if you search for a product, the first few results will most likely be a Google Shopping display. With a line of similar products lined up above the paid search results, users can instantly see the options for their consideration along with pricing and often the name of the company selling the product.
In the example below, I searched for Drones, and as you can see, the first row of Shopping results is probably going to have something that piques my interest.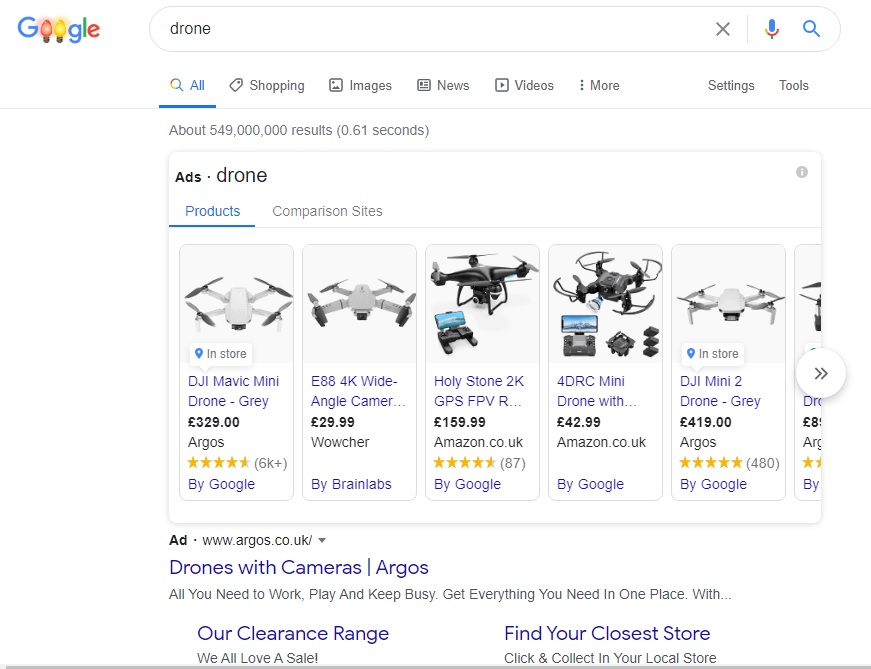 You'll also notice that the paid search results start just on the fold, with the organic results even further down that screen. So window shopping is easy and I don't even need to click through to one of the paid search results to browse the offerings.
In fact, this window shopping on Google has become simplified over the past few years and doesn't require searchers to go to platforms like Amazon or eBay and filter through a million low-grade products. A simple search and hey presto, there are some quality options to choose from.
And it's not limited to that small box at the top of Google. Simply click the 'scroll right' image and hey presto, a nice long shelf of tempting products for your consideration.
And, of course, you can click on the 'Shopping' tab to expand the available options and filter your choice by price, brand and other variables.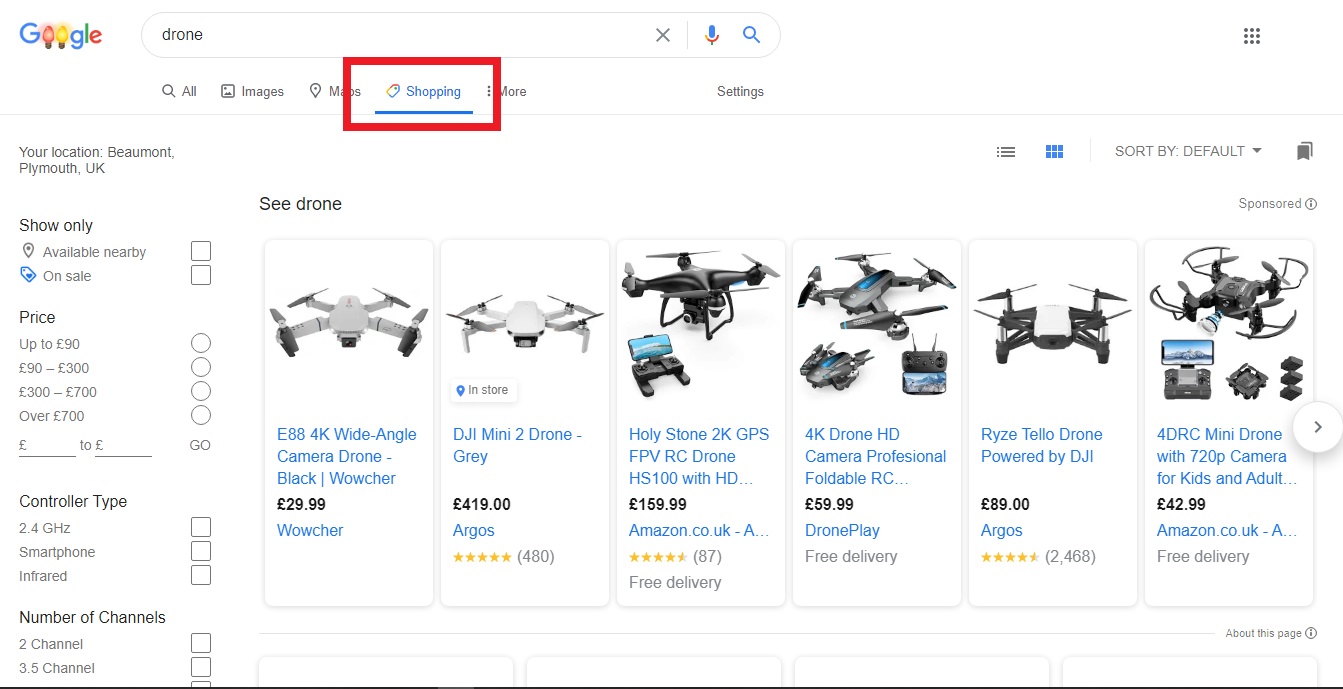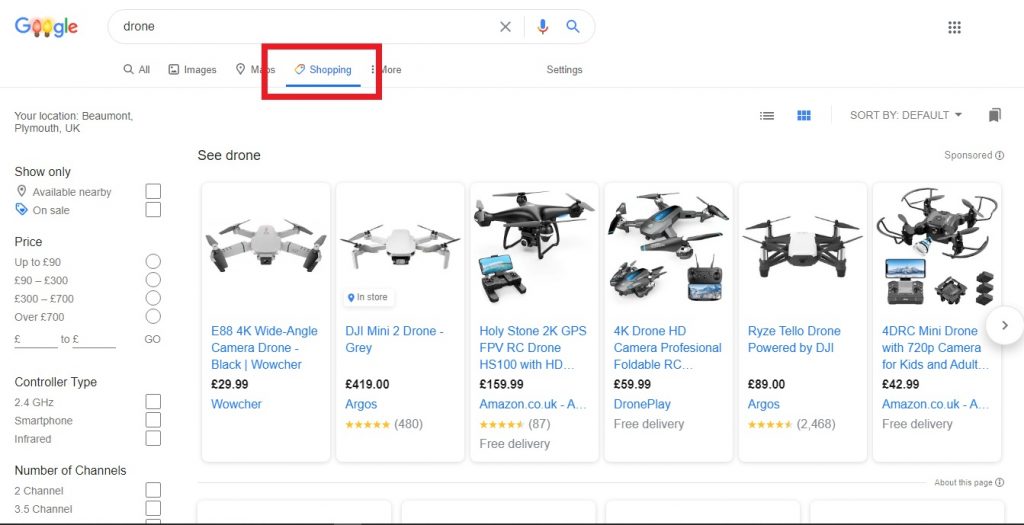 Does anyone use Google Shopping?
In a word, yes.
In fact for online retail, Google Shopping accounts for around 65% of all clicks. Google Shopping ads have grown by 12% in late 2020, and retailers are fast waking up to the benefits of using Google Shopping instead of (or as well as) Amazon.
On a personal level, I actually prefer to search for what I'm looking for in the search engines and then go straight to an independent store rather than using Amazon. It's usually cheaper (often free shipping), and less of a hectic Amazon-centric experience (i.e; too many low-grade products, fake reviews, too many recommended items, and slightly confusing pricing).
Google Shopping vs Amazon
Everyone knows that Amazon is the internet's superstore. Whatever you're looking for, it's probably there. But, this doesn't necessarily make it the best option for everyone.
Amazon charges fees ranging from 99 cents up to 25% of the total sale, depending on a variety of factors such as cost and category. There is also the question of shipping, which is normally worked out by Amazon based on the price of the product.
To sell on Google Shopping, you use the familiar pay per click model (unless you're in the US where it's free as of 2020). This means you can target people searching for specific products from as low as just a few cents.
Yes, you can pay to promote your product on Amazon too, using the pay per click promotional model. And this is becoming a popular option.
But one of the best things about Google Shopping is that people searching for specific products online are probably already close to the decision stage in the sales funnel.
Another benefit of Google vs Amazon is that your ad on the Shopping platform clicks right through to your site. No need to list inventory on Amazon, or use fulfilled by Amazon. All transactions are carried out on your own website, meaning with a good landing page, you can work your upsell magic.
However, users of Alexa and Amazon Prime do get the convenience of being able to add things to their shopping list without even opening their devices. Yes, Google Assistant can be cool too when you have a question or want to play music, but it can't yet add things to your shopping basket.
One more advantage of searching on Google Shopping vs Amazon is the option to find your product locally. By clicking on the Shopping tab, one of the options is to filter results by distance. So, if a shopper wants to go and take a look before committing to purchase, they can find your location and come and take a look. Another opportunity for retailers to make the most of increased footfall…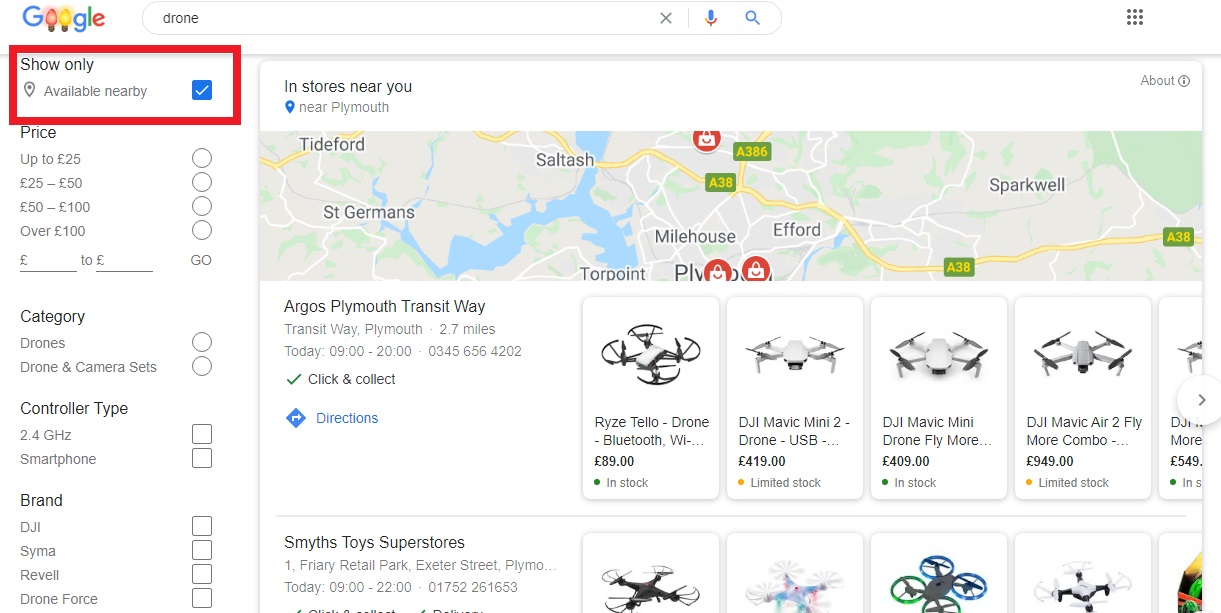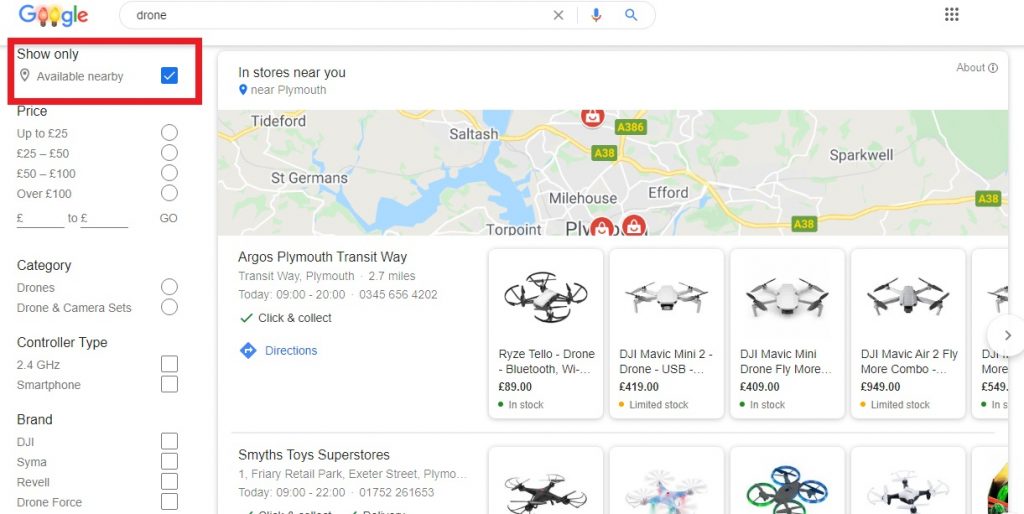 How to set up your Shopping Ads
Setting up a Google Shopping ads campaign is as easy as setting up any other pay per click campaign in Google.
The one difference is that you will need a Google Merchant account, which can be a bit fiddly to set up. This allows you to link your product inventory easily to your Google Ads account, meaning any price changes (such as sales or promotions) are reflected accurately on Google.
Once you have set up your Google Merchant account, login to your Google Ads dashboard, and go to set up a new campaign.
Choose your sales goal, which for Shopping campaigns will be:
Sales
Leads
Website Traffic
Once you've made your choice, you then choose Shopping and then you'll be asked to link your Merchant account. simply go through the process of listing your products and targeting your audience.
If you've ever set up any kind of Google Adwords campaign before, you'll find the entire process very familiar. If you're new to pay per click advertising, Google makes it very easy to get started with your PPC ads in minutes.
The Pros and Cons of Google Shopping
The pros
The obvious main benefit of using Google Shopping is of course the huge volumes of global traffic. Google is by far the most used search engine in the world, with more than 5.6 billion searches every day (and rising).
Chances are someone is looking for your product on Google, and if you're running a Shopping ad campaign, you can highlight your inventory right there at the top of the SERPs.
Ads on Google Shopping are also CPC (cost per click), as opposed to CPM (per impression), so you'll only pay if someone clicks on your ad.
The cons
A downside to using Google is the competitive nature of the advertising space. If you're an SME, you'll likely be up against the giants of your industry, meaning you'll need to be offering a reason for people to click your product over theirs. Perhaps a limited or niche version of a specific product line, free shipping, or a lower price.
As with any pay per click (PPC) marketing, there is always the risk of click fraud. This is where your paid ad links are clicked on by non-genuine sources, which can include business rivals or other malicious actors or automated traffic such as bots and web scrapers. 
Click fraud is a problem that has been growing consistently over the years and is now one of the major problems faced by digital marketers. It's estimated to cost marketers at least 14%, and anything up 30%, of their ad spend. 
However with that huge potential for exposure and returns, we don't think click fraud is a reason to not use Google Ads. Using fraud prevention tools like ClickCease is a cost effective way of ensuring that your ads are only being seen by human eyes.
Find out more about click fraud and ad fraud in our complete guide.