It's easy to hear the word "sales" and picture a confusing mix of marketing, copywriting, advertisement, and a host of other activities geared towards selling your product. But, seasoned marketers understand that success in sales is nothing more than a list of steps that go from attracting attention to closing the deal.
Every business' sales process can be broken down into seven stages. These describe your customer's journey, from hearing about your offer to deciding they need to buy it.
Understanding the basic sales cycle stages won't just boost your sales; it will also help you create effective marketing plans that maximize your spending, increase leads generated, and improve your customer journey.
Let's explore each of these seven stages of the sales cycle and see how you can use them to your advantage.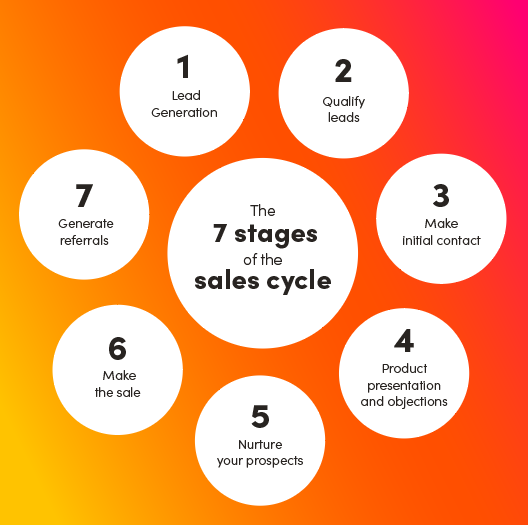 What are the stages of the sales cycles?
Stage 1: Lead generation
Lead generation is a critical part of the sales cycle because it's where your organization identifies people in your target market. Here, you're looking for your ideal customer; businesses or individuals who need your offer and are interested in your solution.
Businesses can prospect for potential leads in many ways, from cold calling and creating targeted content for SEO, to building user personas and connecting on social media. Inbound marketing is one of the most popular ways to draw in those ideal customers.
Read our guide to inbound marketing and lead magnets.
During this stage, you'll generate a mixture of high-quality leads (individuals/businesses with a high likelihood of buying from you), and low-quality leads (people who might be interested but have no intentions of doing business with you.)
But, you're not concerned about the lead quality just yet; that comes later. The priority is to gather as many leads as possible into your sales pipeline because the more potential leads you to have, the more conversions you'll get.
Stage 2: Qualify leads
Looking at all those high and low-quality leads. This is the part of your sales process where you start identifying who is who.
Ideally, you'll have a long list of leads, and qualifying them helps determine who are real potential customers and which ones you can safely ignore. After all, you have a finite budget, and it's critical to allocate resources accordingly.
Most businesses start by getting their sales team or sales reps to research prospects and see if they are compatible. This could mean looking from the outside in to see if their systems are compatible with yours. It could also mean confirming that they need your product, to begin with.
This stage in the selling process also helps you uncover the pain points of your potential customer, giving your sales team an edge when it's time to close the deal. Additionally, you can safely discard leads that don't match your ideal customer criteria.
As an example, imagine that you sell automation software for companies looking to make their operations more efficient. If your current leads aren't in the same industry as your target audience or don't use automation, then you know they aren't your potential customers. You can, instead, put your sales reps on leads that can lead to future sales.
Stage 3: Make initial contact
At this point, your sales cycle is becoming more streamlined. You've cleared some clutter, discarded leads and can now give your sales rep quality information to work with. It's around this stage that businesses like to make contact with their leads.
Your sales reps could deliver a sales pitch or sales presentation explaining how your offer works and what's in it for them. Alternatively, you can use your initial contact to qualify some more before getting into the selling process proper. Sales letters and emails are effective tools here.
Remember that your sales rep may land a formal meeting immediately and deliver a sales pitch. But more reasonably, they'll start a line of dialogue that leads to future sales
Stage 4: Present your product and address objections
If your team hasn't done so, this is the part where you present your product. It doesn't necessarily have to be via a sales presentation. It could be through strategic touch points along your sales funnel, like nurturing emails, PPC ads, or even a follow-up email (from the line of dialogue opened in the previous stage.)
This is also around the point in the sales cycle stages where you commit to your potential customer, upgrading them in your systems from leads to potential clients. Your research indicates that these people need your offer and are willing to buy.
You will double the results from your sales efforts if you remember to promote the benefits, not the features of your offer. That means demonstrating how it can improve your leads' daily life, free up more time, or even maximize revenue. Will your offer automate processes, speed up employee training, or put them ahead of the competition? This is the part of your sales funnel where you point all that out.
Finally, presenting your product would be incomplete if you didn't address your customer's objections. Armed with the information your sales team has gathered from stage 2, you can show your leads why they have nothing to worry about.
According to Hubspot, lack of budget and low trust in your offer are two of the most significant objections that your leads will have. Prepare counterpoints for each of these and equip your sales reps with the information. Is your offer a good value for money in the long run? Does it come with free staff training? Mention all of that.
Stage 5: Nurture your prospects
The sales process can be long and exhausting simply because most leads won't buy on first contact, but that's why nurturing is so important.
According to Marketo, nurtured leads are 47% more valuable than un-nurtured leads because they will buy more from your business. In the end, nurturing your lead is one of the most efficient ways to optimize your sales.
There are multiple ways to follow up and nurture your leads, and it often falls to the discretion of your sales rep. Some businesses prefer to nurture via mail sequences designed to present even more benefits and address objections. Others prefer to schedule follow-up calls that add a personal touch to the sales process.
Stage 6: Make the sale
The ultimate goal of the sales process is to make a sale – to deliver the product or service to your customer and have them pay what it's worth. When your prospect becomes a customer, your sales cycle is complete.
Besides adding to your bottom line, this stage of the sales process can also provide fringe benefits. For example, you can take notes from the previous stages and look for ways to optimize your processes.
Are there glaring patterns in low-quality leads that can inform future lead generation efforts? Did your customer relationship management system nurture your leads properly, or do you need a change? How can you make it easier for your target audience to find you?
Asking and answering these questions can shorten the stages of the sales cycle in the future. They might even help you predict future sales.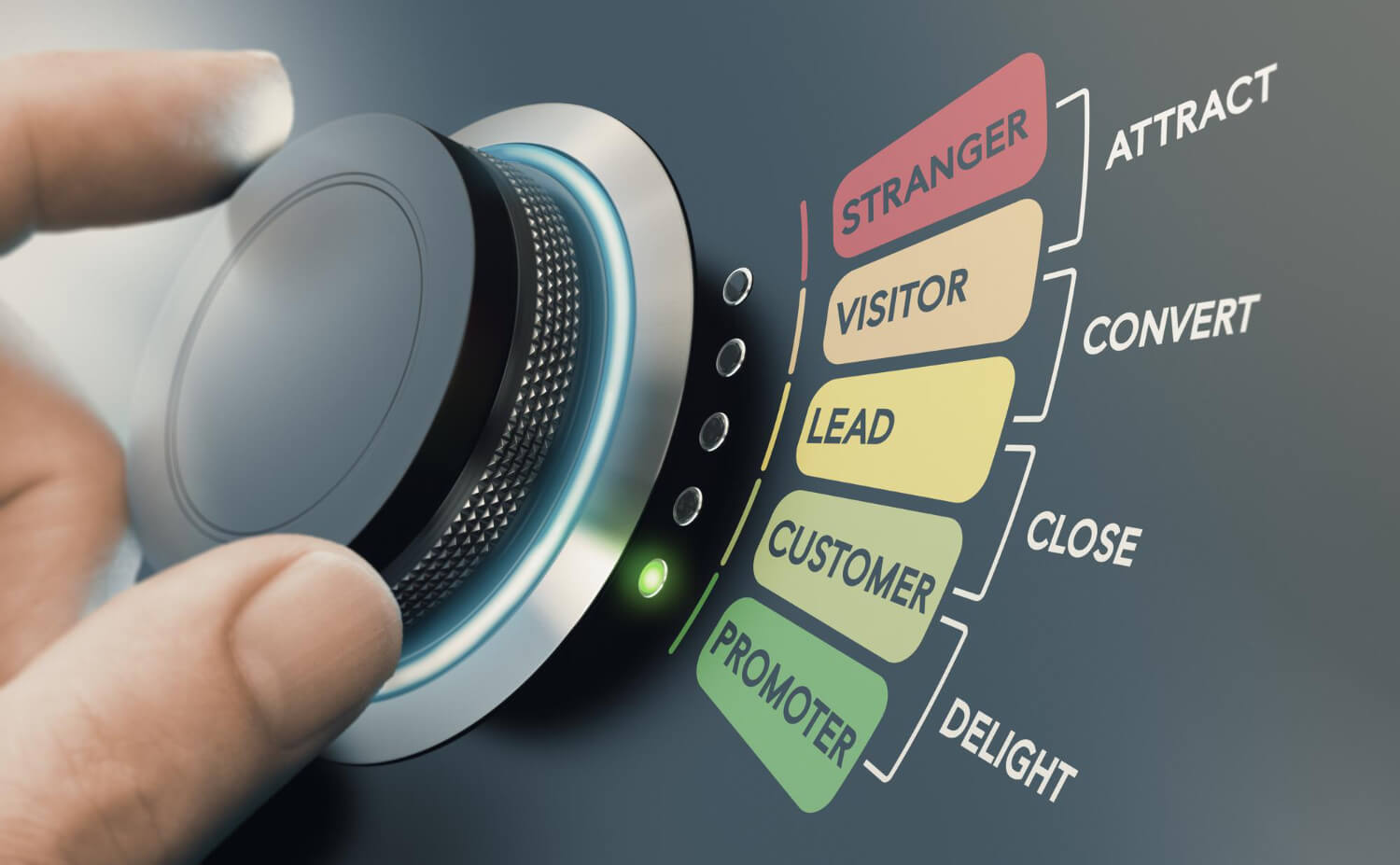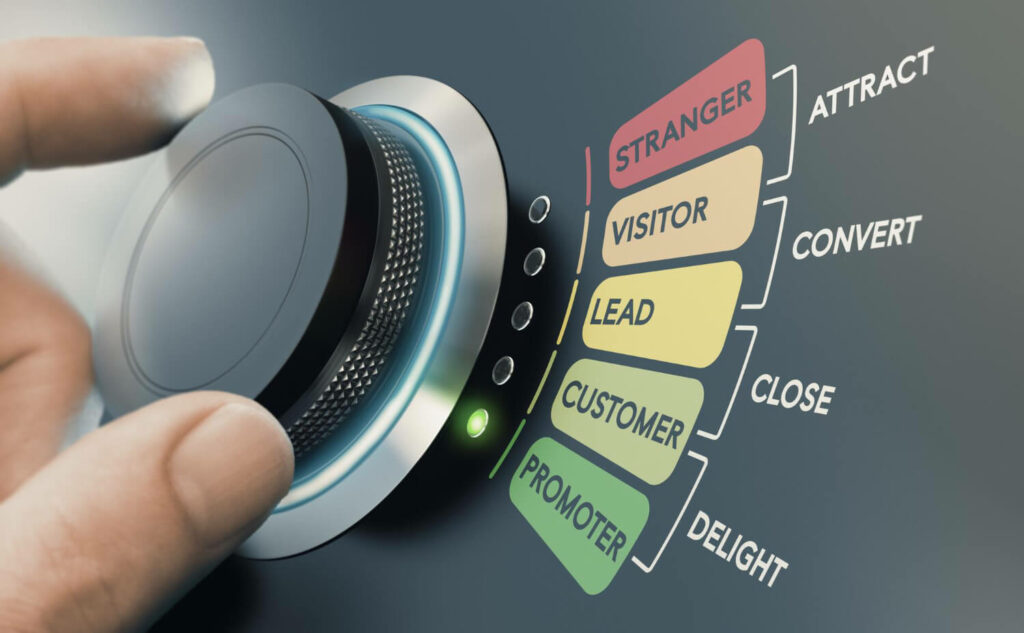 Stage 7: Ask for referrals
Referrals can shave months off your sales cycles because your leads go from knowing you exist to buying, saving you the effort of nurturing them.
Even though not all marketers include this final step, asking for referrals is an integral part of a structured sales cycle. You can use your good standing with current customers to attract new, pre-qualified leads and get right into doing business.
Remember to focus on your best clients when asking for referrals because they are more likely to give you high-quality leads. Additionally, you should ask before you conclude your business together while you're still top of mind.
Here's how you can optimize your sales cycle even more
All your sales won't follow these stages strictly, and expert marketers don't necessarily silo their every move into these seven categories. You could get a referral that jumps all these stages and buys, or you could nurture a lead for years before they eventually buy.
The good news is that you can vastly improve your success rate by increasing visibility and getting in front of more people with greater frequency, and the most popular and effective way to do that is with PPC ads.
With an average ROI of 200% (WordLead), PPC ads allow you to identify your ideal leads and combine three stages – contact, present your products and nurture your leads – into one singular tactic.
Additionally, you should use ClickCease to keep bad leads, bot clicks, and competitor tampering away from your ads and funnel.
Click fraud is a huge and growing problem, one that cost marketers over $41 billion in 2021.
ClickCease's click fraud and ad fraud prevention system ensure that every click on your PPC ads is the valuable lead your campaign is designed to attract. Our algorithms run hundreds of checks, in real time, to analyse your web traffic and block bad traffic before they waste your budget.
Try ClickCease's click fraud prevention free for 7 days to keep your marketing funnels click fraud free.