The internet is your local high street, and your website is your shop window. So, how do you get customers to pop in, browse and maybe even buy something? The answer: Search engine marketing.
Often referred to as SEM, search engine marketing is the art and science of getting your brand or website seen on the first page of the search engines. The Promised Land of all search engine rankings is the number one spot in organic search.
The next best thing? Paying for top spot.
Before we go any further, we'll explain SEM and how search engine marketing differs from search engine optimization.
What is SEM?
Search engine marketing, referred to commonly as SEM, is the practice of using paid channels to secure visibility on search engines. Although it usually refers to the search engine results pages (SERPs), it can also be used to refer to banner ads and other search engine-based advertising.
An SEM strategy is often used alongside an SEO strategy.
SEM vs SEO
Search engine marketing often refers, in general, to the practice of paying to appear in the search results. It can also include using programmatic ad features such as display ads, native ads and social media – but generally speaking if you hear talk of SEM, the implication is paid search.
SEO, or search engine optimisation, by contrast, is the long term strategy of creating content designed to generate organic search results. This normally includes creating regular blogs or working on your content outreach strategy.
Put very simply, SEM will yield instant results in terms of search engine rankings.
But SEO can take anything from a few days, to weeks or months (or even longer), for an effective return. However, the appeal of SEO is that it doesn't involve additional payout, other than the time and cost involved in creating the content.
When it comes to SEO vs SEM, they're often complimentary, rather than in opposition. After all, in the long run, you probably want to rely on more organic traffic as possible.
The benefits of SEM
With search engine marketing, there are several factors that make it very appealing to marketers.
Instant results. You can start targeting customers same day, and start seeing results almost instantly
Targeting. Using paid search, you'll be able to narrow your marketing down by a number of specifics, from location, to interests and online activity.
Pricing. There are a variety of paid search channels and techniques meaning you have lots of options when it comes to your budget.
Automation. A great feature of SEM is that once you've done your research and set up your ads, you can leave them to run on autopilot.
Analytics. Your paid search marketing generates a lot of data, allowing you insight into your target market and your business.
Search marketing sites
When it comes to paid search, the top sites are:
Google
Bing
YouTube
Yahoo
Baidu (Chinese language and region)
Yandex (Russian language and region)
We'll focus mostly on Google Ads (still often referred to as Adwords) in this article, although SEM practices can apply to all of those sites.
Google still has by far the highest amount of daily searches, with something in the region of 6 billion a day, and around 2 trillion a year (and growing).
Although you might not think that YouTube is a search site, it is actually the site with the second highest number of daily searches. When it comes to instructional, information or news searches, YouTube is very much a platform to consider.
Read more about creating a YouTube search campaign here.
We could also add Amazon to the list of paid search sites above, although it's search ecosystem is very much focused on products listed on the platform. So, for now, we'll focus on search engines as defined above.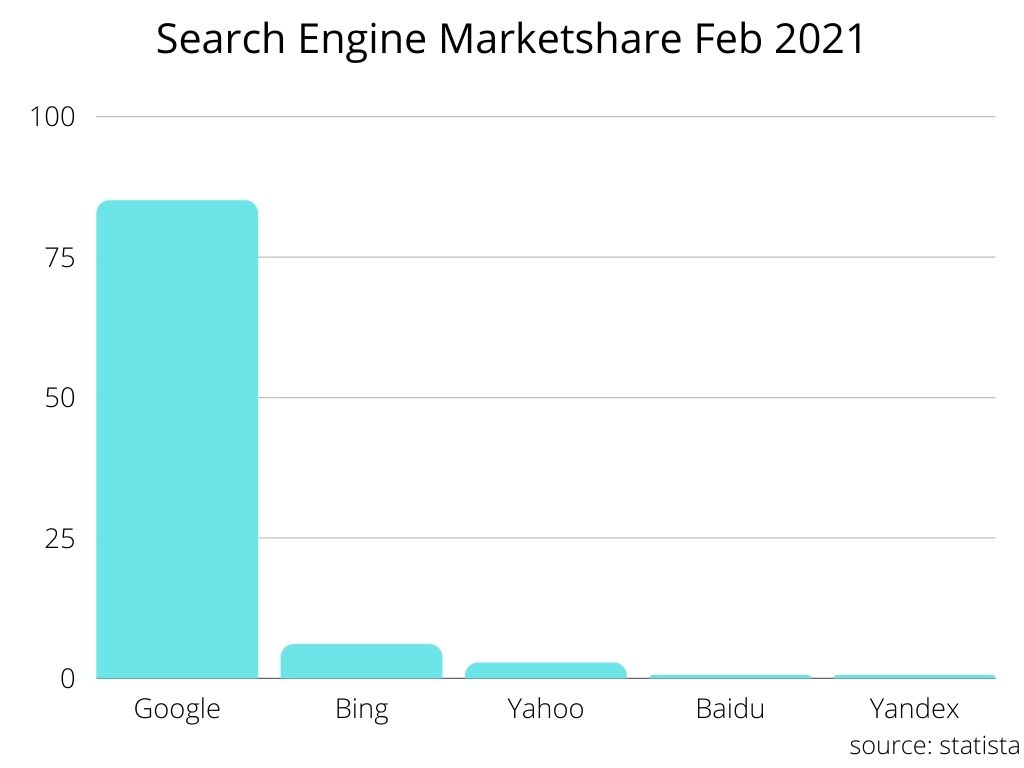 The different types of search engine marketing
When creating a SEM strategy, especially in Google, you will have access to different forms of search results.
Which of these you use will depend on a number of factors, such as your business model, your marketing goals and your budget.
Search results (text)
The original definition of search engine marketing, placing your ads at the top of the results on Google, Bing or Yahoo.
With paid search results, you identify your target keywords and the cost per click (CPC), and then place your bids. If your bid is the highest then your search result will appear at the top of the SERPs with the word 'ad' next to it.
It's also possible to add all sorts of custom formatting to your search results, known as extensions.
These can include things such as links to specific pages, contact details, countdown timers and special offers.
Shopping
If you're selling a physical product, you can display certain items in the Google or Bing shopping results using product listing ads (PLAs).
Google Shopping doesn't deliver results via keyword bids, but uses an algorithm to present items to searchers based on the description and title contents. So it's important to ensure that Shopping listings are well written and descriptive.
One major appeal with Google Shopping results is that the product list often shows above the text search results. So, if your audience are searching for a specific product, displaying in the Shopping bar can be very effective.
Google Maps sponsored post
When it comes to 'near me' or local search results, displaying as one of the top results on the map can be very useful. Google Maps and Microsoft Bing Maps (using Open Maps) displays local services with paid results at the top.
Display and video ads
Technically speaking, display ads such as banners and videos aren't actually search engine results as they aren't technically triggered by a search term. However, as mentioned above, YouTube is one of the world's biggest search engines, so promoted videos and display banners can still be super effective.
Planning your SEM strategy
If you're starting from scratch, or you're setting up a search engine strategy for the first time, it helps to know a little about how to plan your campaigns.
Keyword bidding can quickly get expensive, and if you're not careful, you can end up wasting budget on underperforming keywords, poorly targeted ads and all manner of other pitfalls.
So to create an effective SEM campaign, follow these tips before you pay a penny.
Identify your target audience
First and foremost: Who is searching for you, why are they searching and what problem are you solving for them.
It's highly recommended to sit down and build a picture of who you're marketing to. You might think you're targeting 'everyone who needs a new pair of socks', or 'anyone who wants to buy a new car'.
But once you drill down into the identity of your audience, you can start to see more clearly who your paid search campaign is helping.
Sock buyers? Or people who spend a lot of time on their feet and want to wear a pair of premium quality socks that won't wear through in six months?
Anyone looking for a car? Or people who want a premium brand vehicle, with extras, on a flexible finance package?
This simple exercise can be incredibly useful in the rest of the search marketing strategy, such as…
Identify your search terms
The foundations of all search campaigns are built on search terms, or keywords.
When it comes to keywords, many businesses start with a list of seed terms and build out from there. These seed keywords are the 'raw materials', the basic search terms that describe your service or product.
For example, you might be a florist selling a range of flowers (I'm writing this just before Valentines Day, so it seems appropriate to mention flowers).
Your seed keywords are probably going to be:
Buy flowers
Flower delivery
Celebration flowers
Flower bouquet
But then, you're going to want to build a list of long tail search terms:
Flowers for funeral service in London
Same day delivery flower bouquet
Flowers with free delivery and gifts
You might also want to target seasonal or timed search terms:
Valentines day flowers
Best flowers for Chinese New Year
Flowers for a summer wedding
And perhaps a few negative keywords too:
How to do flower arranging
Cheap flowers
Where to pick flowers near me
Why each of these?
Well, your seed keywords are going to be your high volume and relatively expensive keywords that you probably want to target regularly, but with a restricted budget.
Long tail search terms are those that will attract a lower search volume, but, in theory, should have higher search intent. That is, the searcher is looking for your product as they have a specific need and are already about to make a decision.
Seasonal search terms, of course, speak for themselves. It's probably not a good idea to advertise your Black Friday deals at New Year, or promote your winter sports gear in peak summer.
As for negative keywords, these are terms that might be activated by a search, but have a low chance of conversion. For example, searchers looking for free items or inspiration that might not necessarily turn into a purchase.
Keyword research
We've looked in depth at some of the best keyword research tools for search marketing campaigns here.
But, here is our pick of the essential tools for your keyword research:
Keywords Everywhere
Ahrefs/SEM Rush
Google Keyword Planner
Your budget
Search marketing can quickly get expensive, so sticking to your budget, at least to start with, is key to success.
Of course, you can always change your budget later on, but it's always a good idea to test out your search campaigns with a smaller purse before you start flashing the cash.
All search platforms allow you to set custom budgets for daily or weekly ranges. You can also adjust your keyword bids as you see fit.
Do you need to target number one for your search results?
Not necessarily.
Although the number one spot for paid search attracts 50% more clicks than the spots below, these don't necessarily add up to more conversions.
Once you have a more solid picture of the search terms that work for you, perhaps after a week or two, you can start to adjust your CPC bidding to target that coveted top spot.
Check out the competition
OK, you've already done this, haven't you?
Before you start paying a penny, make sure you've checked out what the competition is doing with regards to their paid ads.
How is their ad worded? Do they have any USP mentioned in their copy or their CTA? What's their landing page like, and is it a tempting offer?
There are software packages that will also let you check out the keywords that your competitors are using such as SpyFu. If you're in a particularly competitive industry, this could be a wise investment.
Timing your ad campaigns
When it comes to a search engine strategy your timing is everything.
Let's say you're targeting keywords that cost around $5 per click. That's an amount that can quickly add up, so, you probably don't want to leave your campaigns running 24/7.
By working out the best time to run your ads for optimum conversions, you can avoid spending money on high volumes of non-converting clicks.
This will be very much industry dependent, and in some industries you might want to leave your ads running 24/7.
But if you're offering professional services such as book-keeping or remote personal assistant support, you probably want to be advertising during office hours.
For those offering retail services, for example ecommerce shopping for gizmos or toys, you might want to work out the best time for conversion traffic. This might be weekday evenings, or all day on the weekends.
This is something you can dig into with testing and research.
Geo-targeting your ads
With pay per click ads, you can also specify the geographic location that your ads target.
If you can, you should absolutely do this.
You can also set up specific geo-targeting with each ad campaign. So rather than having a blanket PPC ad campaign for 'the world', you could/should divide it up by regions.
Bearing in mind too that in the English speaking world alone there are a lot of variations in terminology, spellings and phrasing around some services and products. So geo targeting your ad campaigns by region makes a lot of sense for many reasons, including the timing mentioned above.
Another reason to target specific regions or areas? It can help to avoid click fraud on your ads, a subject which we will come to shortly.
Your ad
As we're talking about search engine marketing, not display marketing, we'll focus specifically on paid search results.
Your SEM efforts are all for nothing if you don't create an enticing ad. So, pay attention to your copy, your call to action and the content of your ad.
You can read more about how to write copy for your PPC ads here.
But, with a well designed ad, you can actually poach those clicks from the top search results.
A good way to find the best ad that works for you? Run an A/B testing campaign, where you run several versions of the same ads.
Experiment with the ad copy, the targeted keywords and even your keyword bidding for the optimal CPC.
Both Google and Bing allow you to create multiple campaigns with multiple ads, so you can play with the content, targeting, pricing and other factors to your heart's content.
Your Google text ad needs to fit the following mould:
Your URL
Headline 1 (30 characters)
Headline 1 (30 characters)
Headline 1 (30 characters)
Description 1 (90 characters)
Description 1 (90 characters)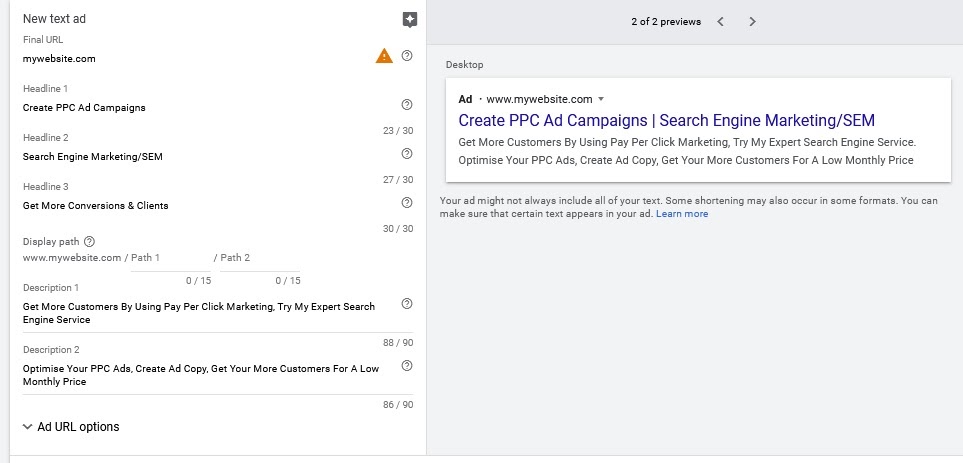 Weirdly, it says on Google 'Headline 3 may not always show', which you can see from the example above.
So it may be best to use Headline 3 for your heading that is less important (which is obviously quite hard to call).
Campaign structure
To allow you to keep tabs on the budget and your targeted keywords, it's a good idea to use campaigns.
As an example, if you're a plumber, you might want to use one campaign to target emergency call outs, and another to target your maintenance services.
Within this, you can set up keywords and negative keywords related to your specified campaign.
| | | |
| --- | --- | --- |
| Campaign | Keywords | Negative Keywords |
| Emergency | Plumber near meEmergency plumberFix a leakStop a leakFix a broken water pipeBurst water pipe emergency24 hour plumber near me | Flood damage repairsHow to fix a water pipeHow to fix a leaking tap/faucet |
| Maintenance | Replace plumbingInstall radiatorRusty pipe replacementsNew bathroom installationDamp and leak remedial services | Plumbing jobsHome plumbing tipsHow much does a plumber cost in my town |
I'm not a plumber, so the above table is just to give you an idea of how you could separate your ad campaigns.
And, of course, within your campaigns you can target specific groups too. So, although you might have emergency plumbing and maintenance plumbing, you might have, for example, residential maintenance and commercial maintenance.
The negative keywords I've chosen have highlighted the type of searches that could be activated for plumbers. For example, jobs, DIY tips and remedial services (which don't necessarily come under the remit of plumbing).
Again, for your industry, understand how some searches could be activated and cost you a click, even if the searcher is not specifically looking for your paid service.
Pro tip: For those keywords that you might deem negative keywords, aim to create search engine friendly content such as a blog post instead. This means you could still potentially rank for those search terms, but without needing to pay for the clicks.
Price in invalid traffic
Here's a fact for you. 90% of all paid search campaigns suffer from fake clicks and invalid traffic on their keywords. In fact 14% of all clicks on these campaigns are from non-genuine traffic sources such as web crawlers, business competitors, accidental clicks and fraudulent bot campaigns.
Shocking fact, but true.
In fact click fraud, as it's known, was found to have stolen around $35 billion from marketers in 2020.
Yes, you can price this in as collateral damage. Or… You can use click fraud prevention software such as ClickCease.
Preventing click fraud or invalid traffic is obviously a good way to avoid losing your ad budget to fraud. But it's also a good way to maximise your ad exposure, after all, the less clicks lost to bots, the more chance your ad will be seen by real humans.
Sign up for a free trial when you start your search engine marketing campaign.
Analyse the results
Once you're up and running with your search engine marketing campaigns, don't just sit back and rest on your laurels.
To maintain a really effective paid search campaign, you should be monitoring traffic, bounce rates, conversions and the cost.
In the early days, you might find yourself monitoring your Google Ads or Microsoft Ads dashboard daily. But, once you have established what works and you're happy with the way things are running, you might find weekly to be a better approach.
Keep an eye out for any traffic anomalies, or low performing ads. Any search engine strategy relies on optimising what does work and stopping what doesn't work.
Remember that SEM strategy isn't static. Your strategy will evolve and change as your business grows, and what works at the beginning of your marketing journey might not work so well once you've scaled up.
So keep on analysing and monitoring what works, and come back to your strategy every few months to keep it fresh.
Your Search Engine Strategy Cheat Sheet
Step One: Identify your target audience.
Research competitors on social media
Conduct surveys on your ideal customer base
Search for your product online
Read blogs, magazine and articles about your product and service to ensure understanding of the market and pain points of potential customers
Step Two: Keyword research
Work out your seed keywords – and use research tools to find long tail, questions and negative keywords
Choose your PPC research software (we recommend Ahrefs, SEM Rush and Keyword Finder)
Make a spreadsheet of all your keywords
Step Three: Timing and strategy
When is the best time to run your ads?
Where are your target customers?
Are there multiple customer types and regions/areas to target?
Set your budget per campaign/ad types/keyword
Step Four: The ad
Create your ad copy
Choose a good call to action (CTA)
Go live!
Step Five: Analysis
Monitor ad performance daily (to start)
Monitor ad performance weekly (once established)
Run click fraud diagnostic using ClickCease (free 7 day trial)
Find out more about click fraud in our complete guide.
And that is how you get your paid search marketing campaign up and running!
Let us know what you think, and how your search engine marketing strategy differs from ours (if it does) in the comments below.