Modern marketing relies less on advertising and more on using digital marketing strategies. But hang on, isn't that the same thing? Actually, inbound marketing has a few key differences with traditional advertising.
These days, if you're running a business or starting out building a brand, you probably default to inbound marketing strategies as standard. Social media, for starters, is one of the most common inbound marketing tactics. Although there is a time and place for using old school advertising approaches, modern marketers will likely prefer the trackability of inbound digital marketing solutions.
OK. First things first, what exactly is inbound marketing?
Define Inbound Marketing
With inbound marketing strategies, you're giving your audience either useful information, to help them make their own decision, or an engaging experience to entice, intrigue or interest them.
It's less about telling them what is so great about you or your business, and more about being informative and visible. You'll see it in sharp contrast to advertising of yesteryear, where a catchy jingle, some attractive models (or a famous face) and cleverly worded sales pitch could see your product flying off the shelves.
At the risk of making our readers take up smoking, these vintage ads for a well known cigarette brand really highlight the gulf between old school advertising and modern inbound marketing.
Disclaimer: Smoking is bad, m'kay🚭
Although TV advertising is still popular and still works, most startup businesses are less likely to kick off their marketing with TV or even press advertising. Why would they?
Today, marketers can create a relatively affordable (or even free) marketing campaign using a variety of platforms. In fact, inbound marketing covers a massive range of options that can range from simply starting a website to more creative real world engagement.
And with options for automation, audience research and outsourcing, understanding how to use inbound marketing can be an artform in itself.
What are the main forms of inbound marketing?
As we say, inbound marketing covers a broad field, and not all of it is digital. But if you're looking at doing any kind of promo, you'll likely be using one of these inbound marketing strategies:
Blogging
Social media
Ebooks or white papers
PPC ad campaigns
YouTube or Instagram videos
Guerilla marketing
Press releases and outreach
Influencer marketing
The benefits of most of these modern digital marketing strategies is that they can be executed almost entirely in house and, more often than not, you can easily measure their success.
Platforms like Google Ads (aka Adwords) give you easy access to data about your marketing efforts, allowing you to see where your audience is coming from, when and what they clicked on. Likewise, you can use marketing tools like Hubspot to analyse how effective your blogs or downloads are and see how many clicks a particular CTA got.
Another aspect of inbound marketing is that you can choose your strategy, which could vary based on your aims or even your product.
Inbound marketing strategies
An inbound marketing strategy should aim to give your target demographic something that either answers their questions, or entertains them. From this initial hook you can then offer them something that keeps their attention on you, or draws them back again closer to their decision stage.
What you're aiming to do is: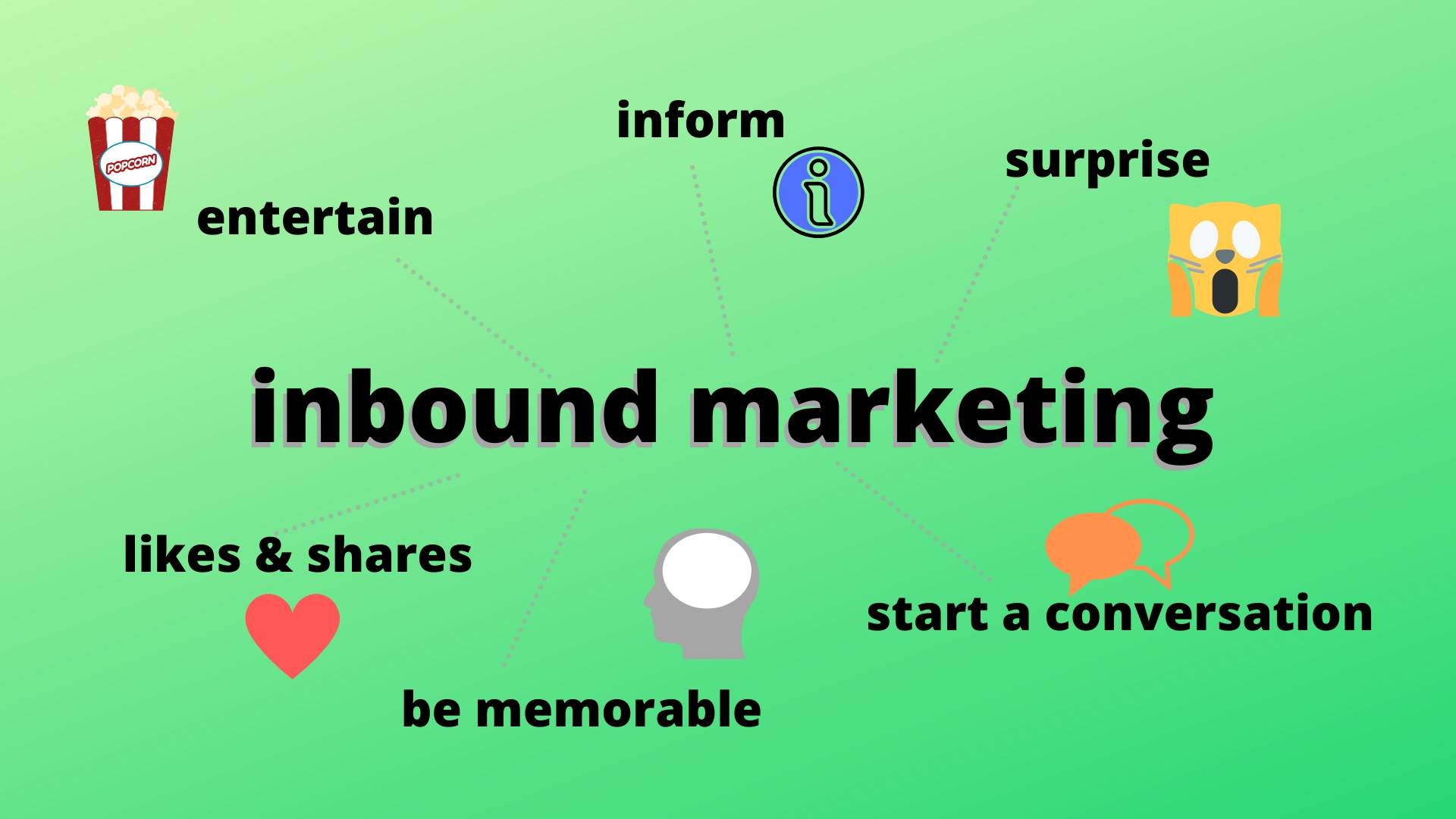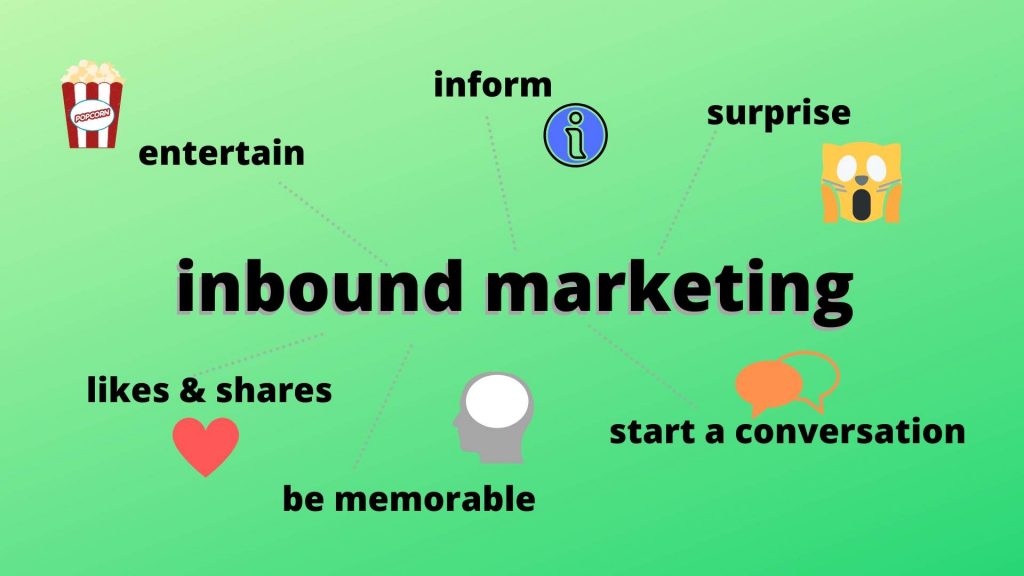 You probably already know about the sales funnel, which are the stages that a customer goes through before making a sale. Inbound marketing is classic top of the funnel (ToFu), but can also be put into action in middle (MoFu) and bottom (BoFu).
Apologies for delving into buzzwords there. But, to help explain it a bit better, here is an infographic.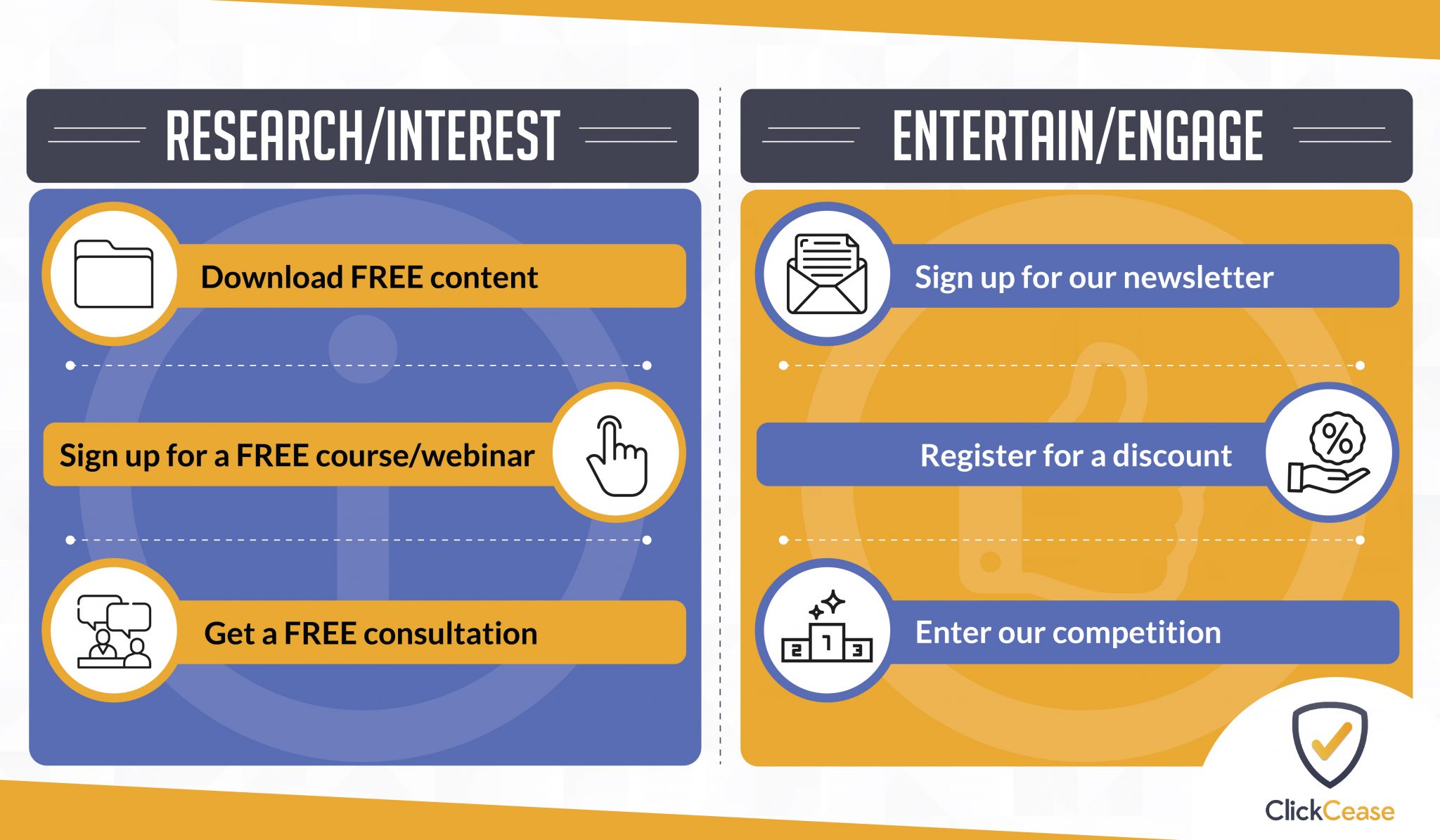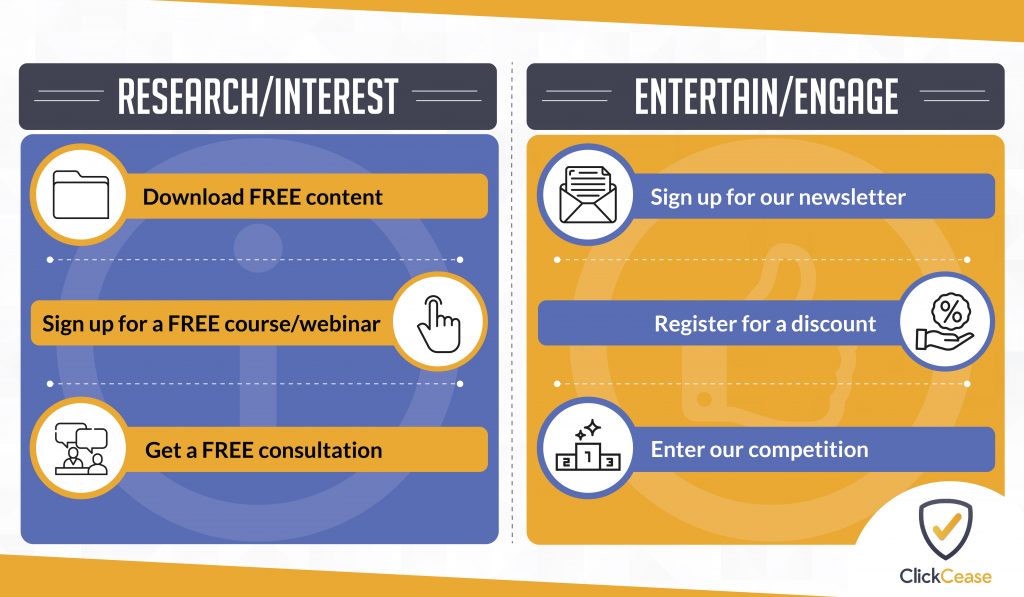 What you'll most likely notice in the images above is the common theme of FREE stuff. Everyone loves free stuff, especially if it's related to something that they're interested in, or a problem they're trying to solve.
So is inbound marketing just about giving people free stuff? Well, no. But it can be a very useful or an important part of the puzzle. However the whole strategy you employ will vary depending on your business model and your end goals.
Leads
For most businesses, getting new leads is priority number one. These leads have normally shown an interest in your service, or in some of the information you're providing, which implies they could become a customer soon.
When it comes to winning more new leads, this does usually come down to the following:
A blog or ebook with important information
A webinar, event or downloadable course that can help your prospect gain insight or a new skill
A video to download or access
A discount offer or coupon
Of course, all of the above are available in exchange for the details of the potential customer. Chances are you've signed up for a free download before and you now find your inbox regularly receives communication from an assortment of businesses.
Well, perhaps you bought from them before, maybe you are a repeat customer, or maybe you've hit unsubscribe.
Engagement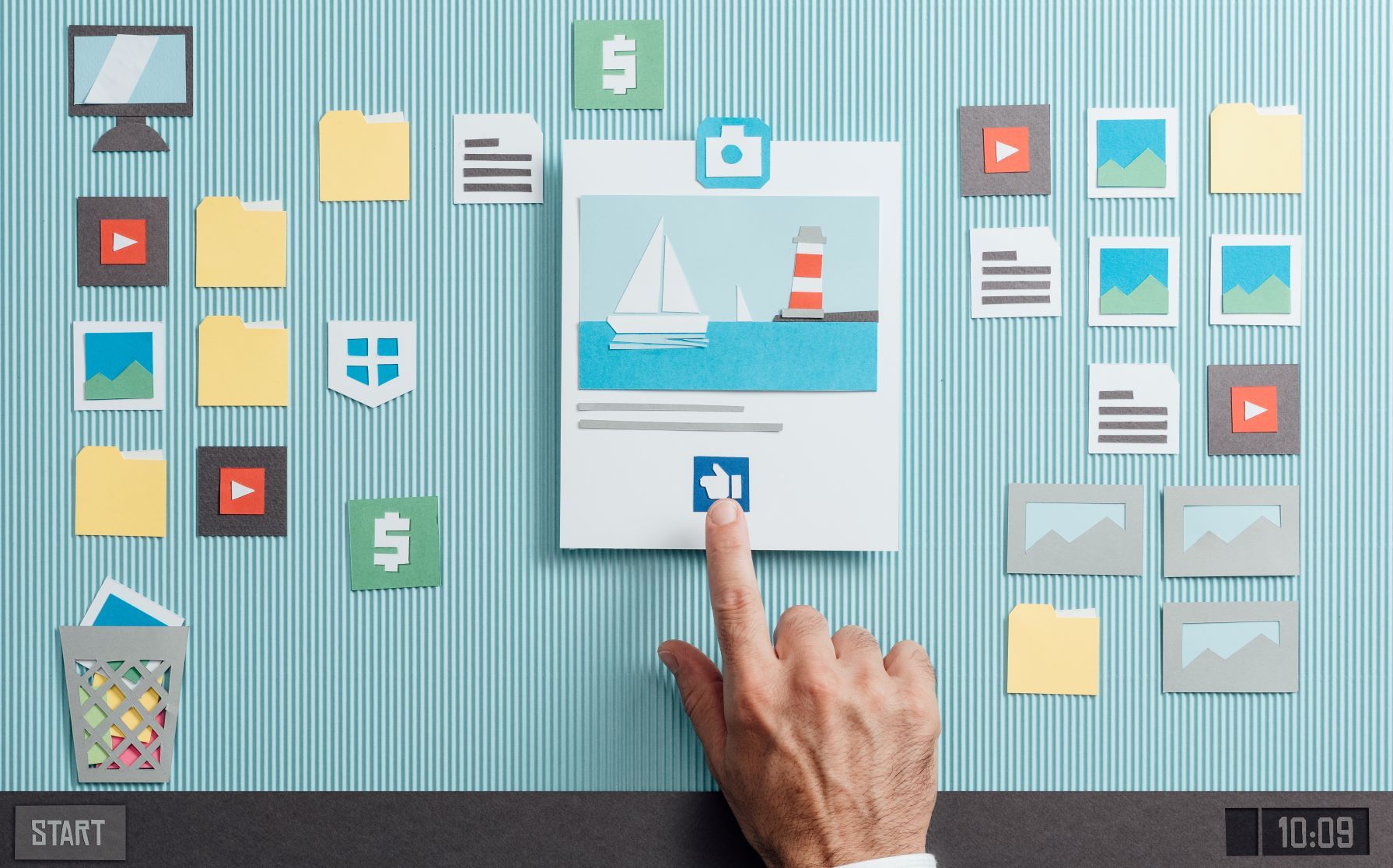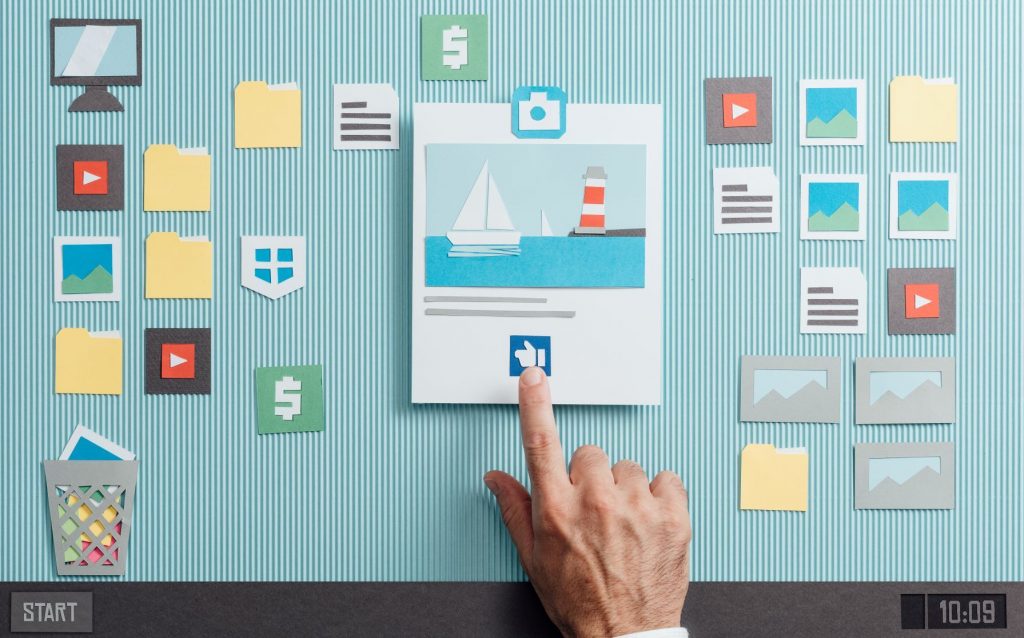 Increasingly the goal for many businesses is increasing brand engagement and visibility. What this means, more often than not, is; social media.
Brands see social followers to be almost as valuable as qualified leads. And so, in recent years, social media has grown to be one of the biggest inbound marketing channels. Why?
With a good social media following you have access to information about your demographic, their interests, the things they talk about and the things they share. It's a huge opportunity for both market research and for putting your service on a platform that can be free.
If you think about how much TV advertising can cost, which then targets a whole spectrum of society that are not going to be interested in your product. But a video on your Instagram or Facebook group page is probably only going to be seen by people who care about your brand. And the more people like, comment and share, the more they do your marketing job for you…
An effective social media focused inbound marketing strategy will look like:
Beautiful images (that may not necessarily be of your product)
A video that encourages repeat views and shares
A responsive social media team who engage with the audience
Regular posts of relevant and interesting information
People are becoming more social media savvy, so increasingly a good social media strategy involves thinking outside the box.
However, be aware that engagement doesn't always mean social media. Newsletters and emails too are a very important part of the engagement marketing approach.
You can also use automated chat bots on your site to answer FAQ's, and sometimes asking for feedback via a popup form can be a useful way to get people's opinions on your service (and help them feel valued too).
Awareness
Aspects of the awareness approach to inbound marketing do overlap with the engagement sub. But with awareness, this can also be presenting yourself either as a thought leader on a subject, or as a desirable brand.

We recently looked at guerilla marketing strategies on this very blog, and *spoiler alert*, Red Bull and Jagermeister are Kings of the awareness marketing strategy. So how does this translate into an inbound marketing strategy for your average SME or startup business?
Public speaking or presentation, either as an individual or a company
Event sponsorship
Community sponsorship or charity patronage
Press appearances
Social media (see the previous section)
Having your brand out there in the real world is a marketing tactic that is as old as marketing itself. However, with the reach of modern media, having your branding in the background, or speaking at an event can be hugely beneficial to your brand visibility in the long run.
Paid campaigns
Paying for it isn't cheating. In fact, there is definitely a time and a place for a paid campaign as part of an inbound marketing strategy.
PPC, or pay per click, offers a variety of ways to engage with your audience.
Display ads (banners on partner websites)
Search engine results (SERPs)
Cost per mille (pay per thousand impressions)
Embedded video
When it comes to getting your ad in front of people's eyes, paying for exposure is a dead cert. And it can really work wonders as part of an inbound marketing strategy.
Paid marketing comes with some risks of it's own, with anything from a poorly researched and optimised campaign, to the very real risk of click fraud and ad fraud. Keep track of your spending, monitor the click through rate (CTR) on your ad and also keep an eye on your conversions.
Bear in mind that ad fraud and click fraud are still growing threats, with at least 1 in 4 of all clicks on your paid ads estimated to be bots.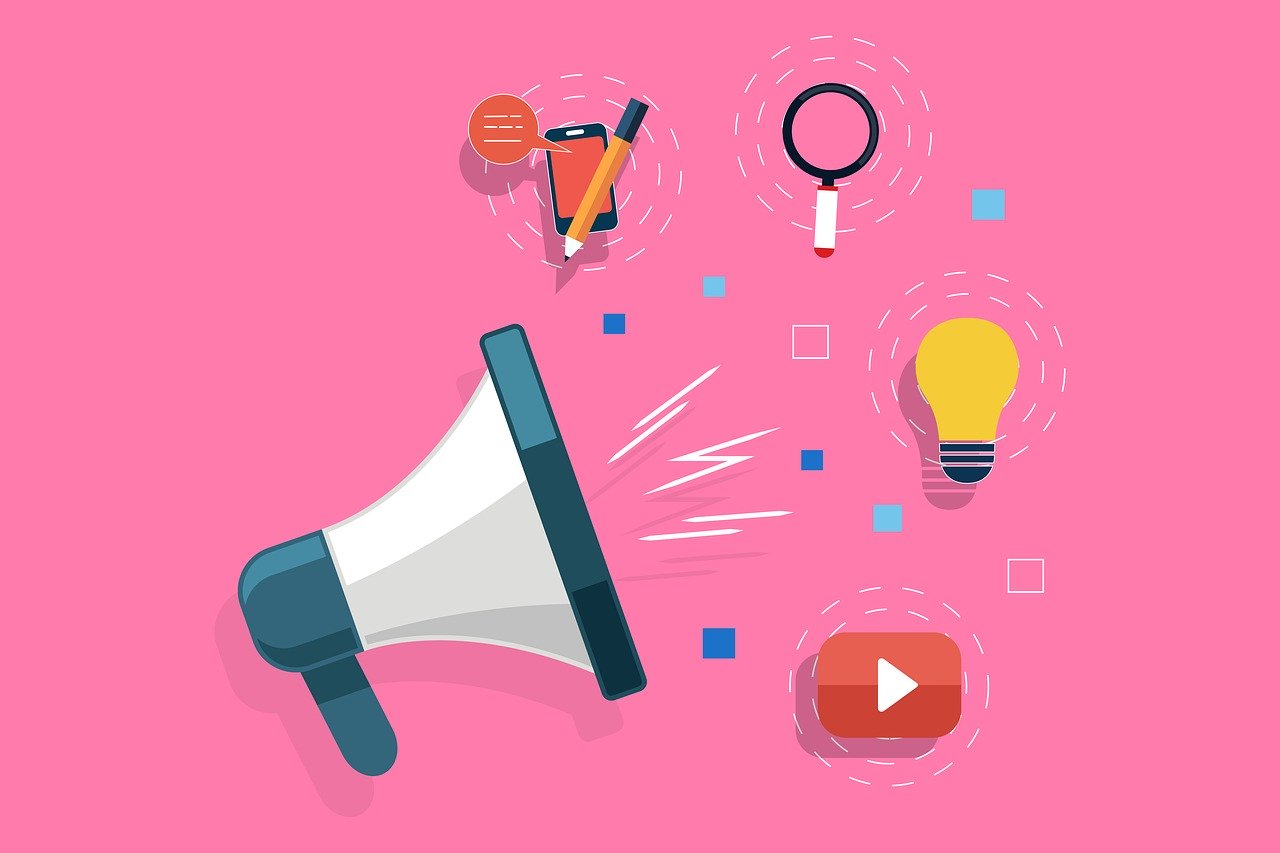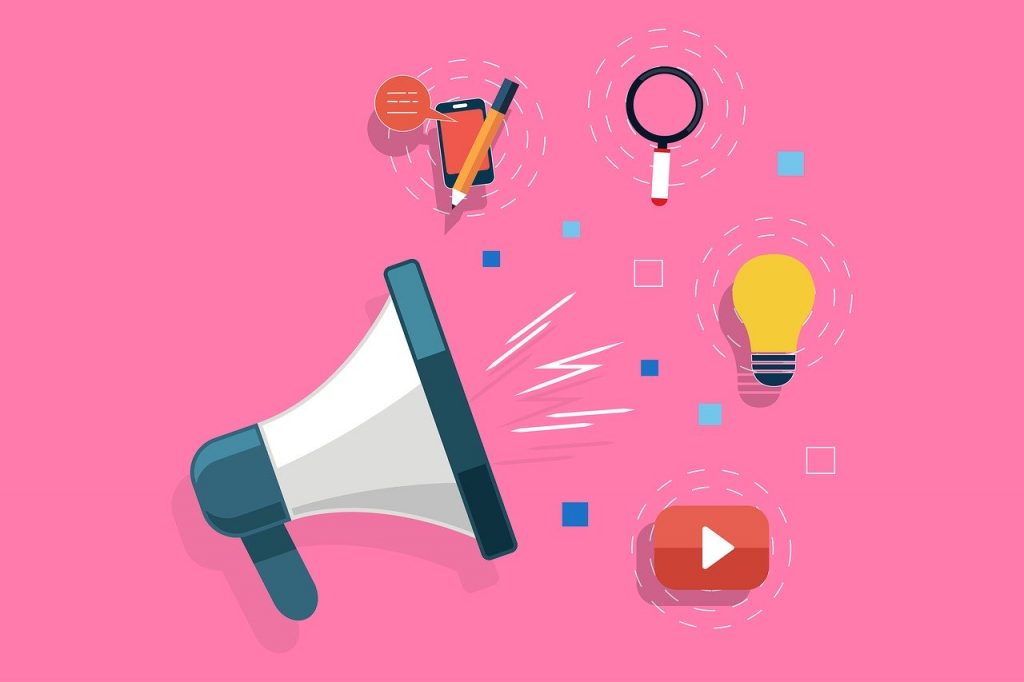 Organic
Free marketing! Well, almost. Organic marketing refers to any form of marketing that doesn't involve paying to promote it. The best known version of this is with organic search results, where your company appears at the top of the Google SERPs (or as close as possible) without using a pay per click campaign.
But organic marketing goes beyond Google. If you're looking to optimise your inbound marketing strategy for organic results, these are likely to be your main aims:
Search engine optimised blog posts
Content outreach (external blogging and publishing)
Word of mouth recommendations
Widely shared social media posts
Good reviews
Featured in 'best of' lists or other non-sponsored content
Does organic marketing really mean free? Although some results can be entirely free (meaning you didn't pay for them), the amount of time and effort that goes into creating this organic content can add up.
For example, working on your SEO might involve hiring external agencies to optimise your content. Or, you might need to hire a social media specialist to create shareable content and beautify your images full time.
Be aware organic may mean, not paying for the exposure. But it probably means a lot of effort making great content and ensuring it's optimised for organic.

Inbound marketing tools
When it comes to managing your marketing, there are tools to automate almost every aspect of the job. In fact, choosing your inbound marketing tools can be a tricky subject. We took a look at some of the best marketers tools available in a previous post. But, for simplicity, these are some of the tools that marketers will want to use to manage their content.

Social media management: Hootsuite, Tweetdeck, Twittimer
Landing pages/emails/leads: Hubspot, MailChimp, SalesForce, Zoho
SEO: SEMrush, Ahrefs, Moz, Ubersuggest
Chatbots:
Video: YouTube, Vimeo, Instagram & Facebook Stories, Linkedin
This really is just the tip of the iceberg when it comes to inbound marketing tools, with new developments changing the landscape constantly. In fact, AI is increasingly having an impact on the results of marketing, especially when it comes to analysing results or targeting specific demographics.
So, does this mean outbound marketing is dead?
Although inbound marketing has become a huge industry, and one that is most definitely an effective option in our digital era, the death of outbound is greatly exaggerated. Inbound and outbound still work hand in hand, with sales teams using the data and details generated by marketing to close more deals and make more business.
If anything, modern inbound marketing methods have given outbound marketing more tools in the armoury. With all that data and insight, outbound marketers, i.e; traditional salespeople, have more prospects, more information about what customers are interested in and more chances to win new business.
A powerful sales strategy in the modern era uses both inbound marketing for research and outbound tactics. If you're just using traditional marketing techniques, maybe it's time to get to know more about the potential of inbound marketing techniques.