Setting up your Google Ads is just the first step. Of course, all marketers want to maximise CTRs and conversions, we all want our money's worth. And this is where Google Ads extensions come in.
Google rewards ads that perform well, which means an optimised CTR, low bounce rates and decent conversions.
It's all about the user experience. This is the whole point of Google: making it easy to find what we're looking for.
To get the most out of most Google Ads campaigns, extensions can make a big difference for both you and searchers. However there are lots of different extensions, and you don't want to overwhelm users.
So how can you choose the best Google Ads extensions for your campaigns?
What are Google Ads extensions?
The clue is in the name – ad extensions are used to expand the details of your paid search result.
They are typically used to make it easy for searchers to find a specific category within your ad campaign, or to perform an action.

For example, on the ad above, there is a Google reviews extension and links to specific categories (sitelink extensions).
Searchers can quickly see that the top paid result has lots of positive results, and they can click directly through to courses for beginners or kids.
The extension example below contains a few extra elements too.

This ad contains the phone number extension, a clickable address (which links to Google Maps) and expanded links to specific categories.
So you can already see how useful extensions can be. So how do you use them, and which ones do you choose?
Automated extensions
Like pretty much every aspect of Google Ads, Google likes to make it easy to get on board. This includes Google Ads extensions, some of which are activated automatically.
Depending on what your campaign goals are, Google may display certain extensions if it thinks it will increase the chances of a click or conversion.
For example, if you set your campaign goals as 'Get more calls', Google may display your phone number alongside the ad. This simply means that mobile searches can call directly from the search result.
Likewise, if you're looking to get more walk-in visitors then Google may display your address, opening times or multiple business locations (if you have more than one).
This is a feature that comes as standard, although you can opt out easily.
In your Google Ads account, click on ads and extensions
Click on 'automated extensions' at the top of the page
Expand the menu (three dots) and select 'Advanced options'
Select 'Turn off automated extensions' and choose which ones you want to remove
Once you're done, click 'Turn off'
If you do leave automatic extensions running, make sure features like your phone number, address and other specifics are correct.
Google chooses to add extensions automatically because it's been shown that ad extensions improve performance. But Google does also recommend that you manually add extensions that you want displayed on your ads.
How to choose Google Ads extensions
Like all aspects of PPC ads, choosing ads extensions depends on your overall marketing goals.
There are several different categories of manual ad extensions which you can choose. Google divides these by your business goal. To summarize:
Location extensions
Affiliate extensions
Callout extensions
Call extensions
Sitelink extensions
Structured snippet extensions
Price extensions
Seller rating extensions
App extensions
Lead form extensions
There are also universal extensions, which are those which Google thinks every business should use. These are the call, sitelink extensions and structured snippets.
So let's take a closer look at what each of these involve, how to use them and when they're most relevant.
Location Extensions
As you would expect, location extensions are used to highlight your physical location and make it easier for people to visit.
Obviously this is ideal for bars and restaurants, retail, tourism, professional services and other drop-in dependent businesses. Location extensions allow you to add:
Your address, or multiple addresses for multiple locations
Distance to your location from the searcher
Expandable details such as opening hours
An option to 'call' on mobile, or the phone number displayed on desktop

The example shows the desktop version of the location extension with opening hours in the drop down and a clickable pin for Google Maps.
The mobile version is much more compact, and is designed to take you directly to the Google Maps page (which has all the deets). Clicking the arrow on the bottom right hand side will also bring up the Google Maps directions to guide you there.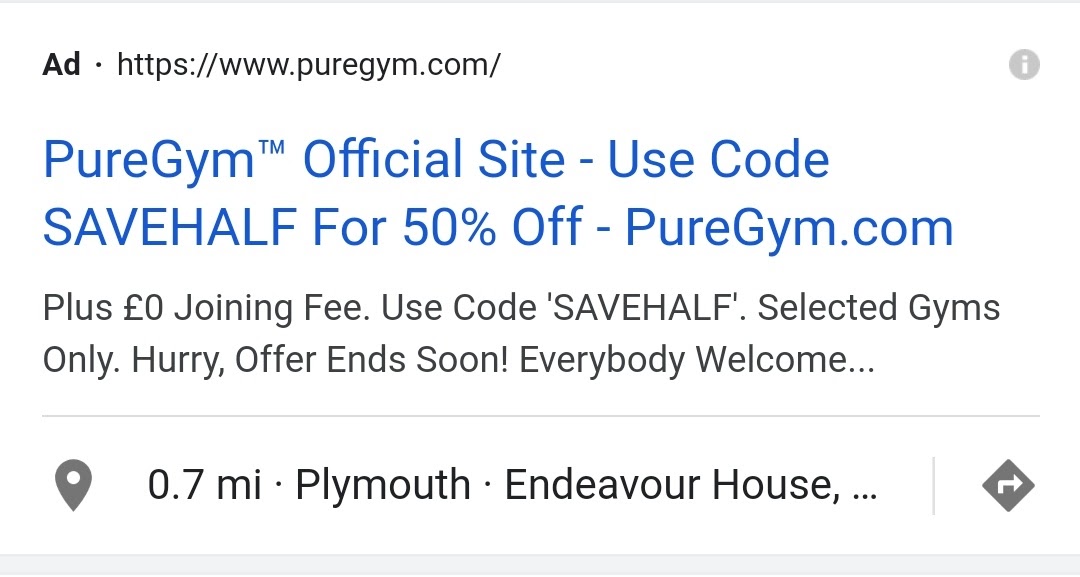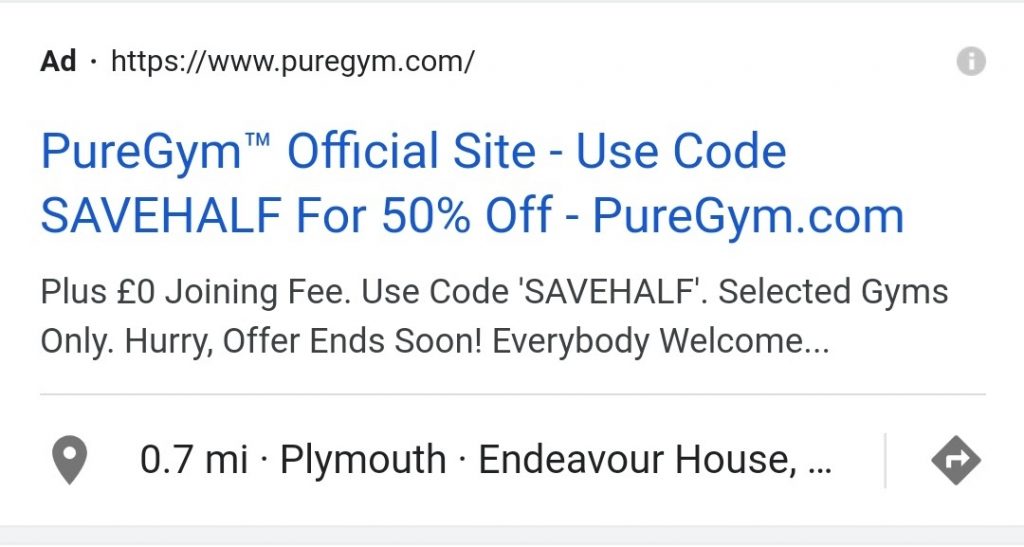 Location extensions can also show in Google Maps Ads, YouTube pre-roll ads and sometimes on the Display Network.
If a searcher is in your area, or has shown an interest in your business or a similar service, they might see your ad pop up within banner ads or ads on apps.
You can opt-out of these extras in the options for your location extensions.
When to use: For any business that trades from a specific location (or locations) and handles walk-in customers.
Affiliate extensions
If your product is stocked by a retailer or in a showroom, you can use affiliate extensions to show searchers where to find them.
As an example, if you're a surfboard brand, you might prefer to point searchers to retail stockists in their area. This hypothetical surf brand might be trying to expand their footprint abroad, but prefer to avoid costly shipping overseas and import charges for the customer.
In this case listing an affiliate near them, or at least in the same region, might be preferable for the customer and be more likely to result in a sale.
Car showrooms are another good example of when affiliate extensions might be useful. Auto brands might not have a showroom in the searchers area, but they could link an affiliate instead.
When to use: Highlighting where your product is available from retailers. Especially if you don't directly offer the product in that area.
Callout extensions
If you want to catch browsers attention with your unique offers, you'll be able to use callout extensions.
These allow you to highlight features such as:
Free shipping
24/7 customer service
Free additional service
No obligation trial
Monthly membership – cancel any time
In short, whatever your USP is, you can highlight it with a callout extension.
You can add up to 10 callouts in addition to your ad text, so it's a really good way to maximise your ad real estate. Use your text to summarise your awesome product or service, and then max your USPs with the callouts.
Callouts are very flexible too, with the option to add different ones between campaigns or ad-groups.
Your callout ads will look different on computer vs on a mobile device. On a computer, they will be separated along the length of the ad, and may wrap onto different lines. On mobile, they might look more like a paragraph and wrap onto multiple lines.
Google recommends using simple wording or short phrases, adding extensions at account level and being specific. For example, instead of 'Close to the beach', say '300m from the beach'.
When to use: Any business wishing to highlight some of their USPs or features outside of the main ad text.
Call extensions
An obvious one. Call extensions allow you to add a function to call or contact your business directly from your ad.
You'll either display a 'call' button, or the actual number which can be clicked or copied by the browser. Call extensions can also show on display ads.
A click on the number or call button counts as a click, so you'll pay for each time someone engages with this extension.
When to use: To make it easier for your customers to get in touch with you.
Sitelink extensions
When you see those search ads with links to specific categories, pages or products, those are sitelink extensions.
Using sitelink extensions helps your customers get to the specific products or services they're looking for. Sitelink extensions are also an excellent way to maximise your ad real estate, display attractive offerings like sales or promotions, or drive audiences to a specific page such as a lead magnet or FAQs.
Your ad can show up to six sitelinks, in addition to the main ad text. Each with 25 characters of header text and 35 characters of description.
For your sitelink extension to appear, you'll need at least two for desktop or just one for mobile.
Sitelink extensions can also be used with video ads on YouTube, in addition to search ads.
They are fully customisable, allowing you to create links to specific landing pages, forms or whatever page you want on your site.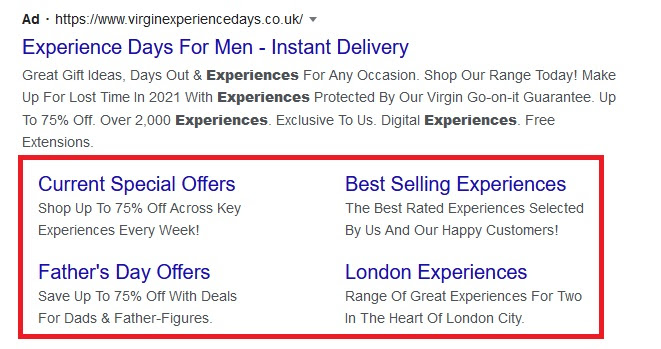 These examples of sitelink extensions highlight how they can be used to make it easier for customers to find what they're looking for.
When to use: To highlight your most popular products or services or drive traffic to a specific landing page.
Structured snippet extension
This useful extension gives you some extra text real estate to explain your business offering. Structured snippets appear below the main ad text, and can be used to summarise your offering.
For example, if you're a building services provider, you might wish to clarify that the services you offer include architects, project planning and management, demolition and site management.
A structured snippet would allow you to add these to the end of your ad text, saving your actual ad for a more thorough description.
When to use: If you have multiple products or services and you want to highlight the most popular for your customers.
Price extension
Google Ads is all about shopping isn't it, really. So making it easy for people to see your deals right there in the SERPs makes sense.
Price extensions display your price offer in a bar below the main text ad, and can be expanded to show a fuller list. This list can display up to 8 items, each of which are clickable, so shoppers can go straight to that item on your site.
The example above is using sitelink extensions and price extensions to highlight their offering. These links could then lead to either a category page or, better still, an optimised landing page for the highlighted offer.
When to use: To make it easier for your customers to see your service offerings and draw more clicks directly from the SERP.
Seller rating extensions
Everyone wants reassurance that they're buying from a reputable company. We've come to rely on ratings more as we buy online. So adding seller rating extensions to your listing can help to ease customer doubts at a glance.
Seller ratings will only show on text search results, and only reviews from the country where the search is conducted will show. So for example if you're in Canada, only Canadian reviews will show on your ad, even if the company is American.
Google's ratings come from Google itself, and are also aggregated from a number of popular review sites including (but not limited to):
Feefo
Power Reviews
Trusted Shops
Trust Pilot
Verified Reviews
Google also states that you need to have a review rating of at least 3.5 out of 5 stars for the review to show. However, they also state that if the rating is less than this, it will display.
You'll need to have accrued at least 100 reviews within the past 12 months too for the rating to show.
When to use: For any business where your rating might make a difference to the consumer's choice – for example food, hotels, on-demand business, ecommerce or software services.
App extensions
Businesses that depend on apps can promote their app right there in the SERPs. Results with app extensions will only show on mobile searches, including tablets, and it'll also work out which OS to display (Google or iOS).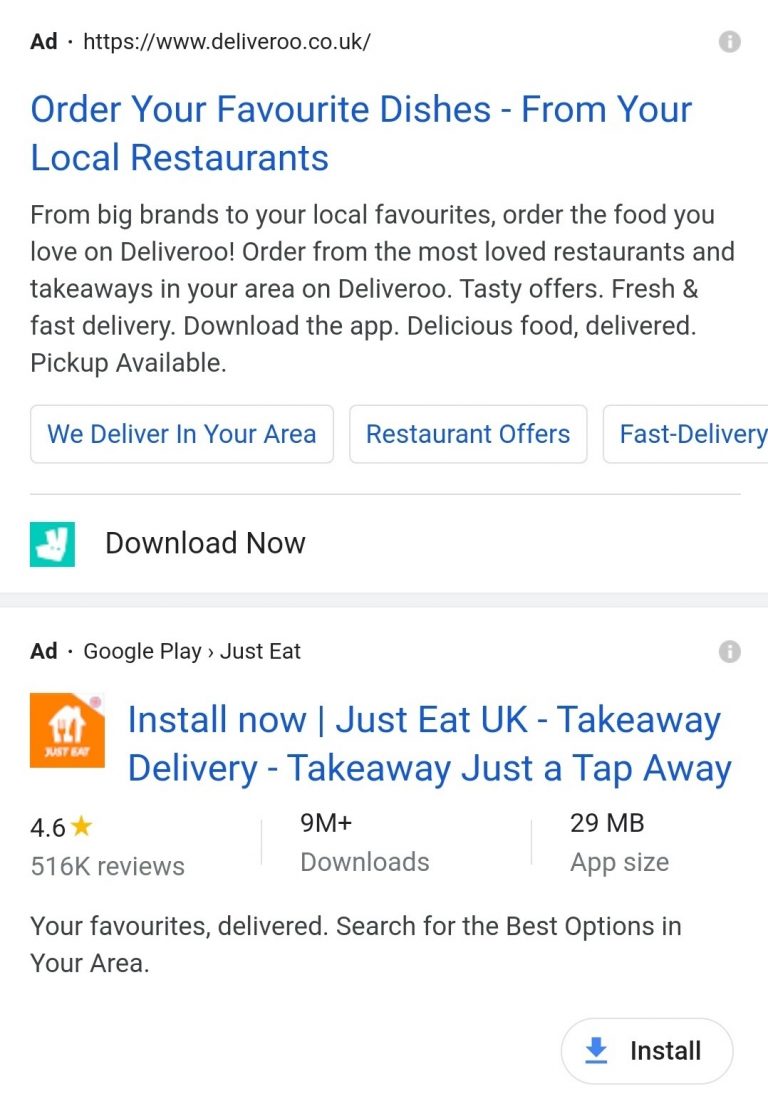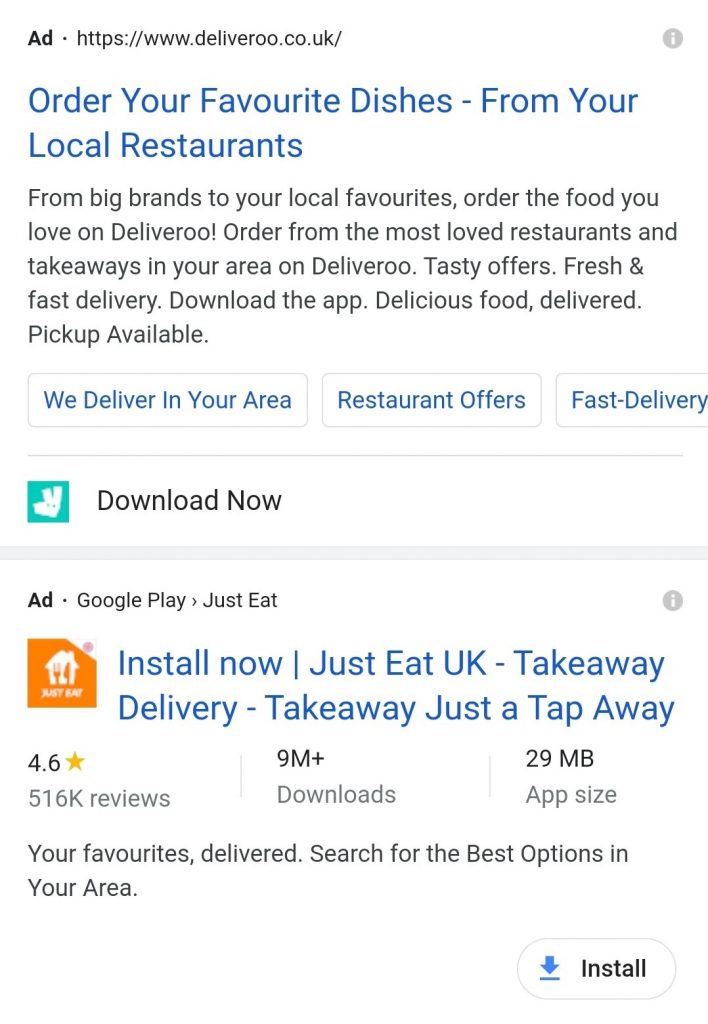 From the examples above, you can see two different versions of the app extension results. Display text, reviews, amount of downloads or sitelink extensions to your website.
App extensions are only available from text ads, and can run from Campaign, Ad group or Account level, and are fully customisable.
When to use: If you have an app to promote.
Lead form extensions
Getting more sign-ups for your marketing funnel can be a slow process if done organically. Which is why using lead form extensions can be a nifty way to get more leads.
Lead form extensions are available for text search ads, display network, video and discovery (which basically means in Gmail). It's also worth bearing in mind that they only display on mobile search.
But if you want to get emails or details of people who are interested in certain subjects, lead forms are great.
When to use: Building your email list, generating interest in an upcoming product or capitalising on people's interest in specific subjects.
Which extensions should you use?
Of course, there is no set rule for every business about which extensions you should use. But should you be using Google Ads extensions in general? Absolutely.
To make your ad stand out, sitelink extensions are great to highlight your sales, promotional products, unique products, or best selling categories.
And if you want to make it easy for customers to see what you do, and to add extra detail to your ads, structured snippets, callout extensions, and sitelink extensions are great.
It's been found that using extensions does increase conversions and ad engagement, so bear that in mind. You should also avoid using more than four extensions on your ad, for the sake of keeping your campaigns simple.
When it comes to Google Ads, blocking click fraud has also been shown to greatly increase campaign success. Click fraud and ad fraud affects around 90% of PPC campaigns, and can cost marketers on average around 15% of their ad budget.
Read more about click fraud in our complete guide.
ClickCease blocks known sources of click fraud and ad fraud in real time; is constantly analysing your paid search traffic for bots or malicious clicks; and gives you extra insight into your ad targeting.
Don't run Google Ads without running a ClickCease audit on your campaigns. It's free!