Have you ever watched an advertisement that moved you? Left you feeling shocked and confused? An ad that tugged on your heartstrings? Well, that's exactly what controversial advertisements are all about.
Creating controversial ads can be a fine line between an ad that gets talked about, and one that consigns your brand to the bin of shame. But, done right it can be a very effective marketing strategy. But it's worth understanding how you might end up a bad ad, rather than a controversial ad.
Why courting controversy is tempting
Controversial ads send out a bold message that makes an impact on viewers and their feelings. Individuals are more likely to remember something if it has triggered an emotional response. A risky move for many companies but one that has shown success in the past.
However, if it goes wrong you risk your company facing boycott which can damage your image in the public eye. That means it's important to consider what other people think of bad advertising.
Let's go back to the 80s when the Benetton group introduced controversial advertising to the public. This Italian clothing retailer created an advertising campaign called "The Colors of Benetton", an idea designed by their photographer Olivero Toscani. The focal point of this campaign was to grasp the viewer's attention by using graphic images of real-world issues such as AIDS, hunger, and even death sentences.
With these bold images presented globally on billboards or in print, it certainly got the world talking about Benetton.
The content of the ads were almost entirely unrelated to Benetton products, but it marked a turning point in advertising which led to a worldwide debate around the campaign. After all, "any publicity is good publicity".

The Most Controversial Ads 2018-2020
Nikes 30th Anniversary Campaign (2018)
Labor day, a way to close out the summer in the States… or for Nike to launch their 30th Anniversary 'Just Do It' ad campaign. The controversial commercial featured Colin Kaepernick, a former NFL player who was dismissed from his football career after standing up for his beliefs and protesting against inequality of minorities in the US.
After refusing to stand for the national anthem during his games, the public deemed him as anti-American. His actions reflected the quote, "Believe in something, even if it means sacrificing everything".
Nike honed in on this bold statement and applied it to their 'Just Do It' marketing campaign, taking it to a whole new level. A black and white headshot of this new civil rights activist accompanied the quote. The public were divided over Nike's choice of representative for their campaign, with many people boycotting the company, burning Nike products and posting images on social media with #JustBurnIt.
Good ad, bad ad? It was certainly controversial and got many people discussing the brand, even outside of America.
And perhaps the telling statistic is that Nike sales went up around 10% following the controversy.
In light of the Black Lives Matter movement of 2020 and 2021, it seems that Nike may even have been ahead of the trends. And when you also consider that Nike's target demographic tends to be younger and in-line with contemporary cultural trends, it starts to look more like a wise choice of icon.

Lush: SpyCops Campaign (2018)
If you're unfamiliar with the term 'SpyCop', it refers to police officers going undercover to form false relationships (sometimes intimate) with activists as a way of infiltrating their organisation. But what has Lush cosmetics got to do with this?
This cruelty-free brand set out to promote awareness around SpyCops and put their reputation on the line in doing so. Lush challenges police powers and shines a light on human rights with this controversy courting ad. Participating stores decorated their shop windows with police bands stating that "Police have crossed the line". Many people criticized this challenging commercial campaign and rallied against it in defence of the police force.
Lush stood by their decision, stating that the company believes in rights of all forms including animal-rights, equality, and human rights which is why they took this standpoint to raise awareness around sensitive social issues. But they may not have received the positive support that they wished. 

H&M: Coolest Monkey In the Jungle (2018)
H&M is known for running gender, race, and age-inclusive campaigns, but they are no stranger to controversy. One controversial move, seen as being racist, was in 2018 when they used an image of a young black model wearing a jumper with the slogan "Coolest monkey in the jungle". The advertisement caused an uproar on social media and was classed as "offensive, disturbing, and totally inappropriate".
H&M responded that they lacked awareness and made a marketing mistake. However, the public believes it was a publicity stunt to create a buzz around the brand. The Weekend, a former celebrity ambassador for the brand, cut all ties with them and refused to do any future work with the company.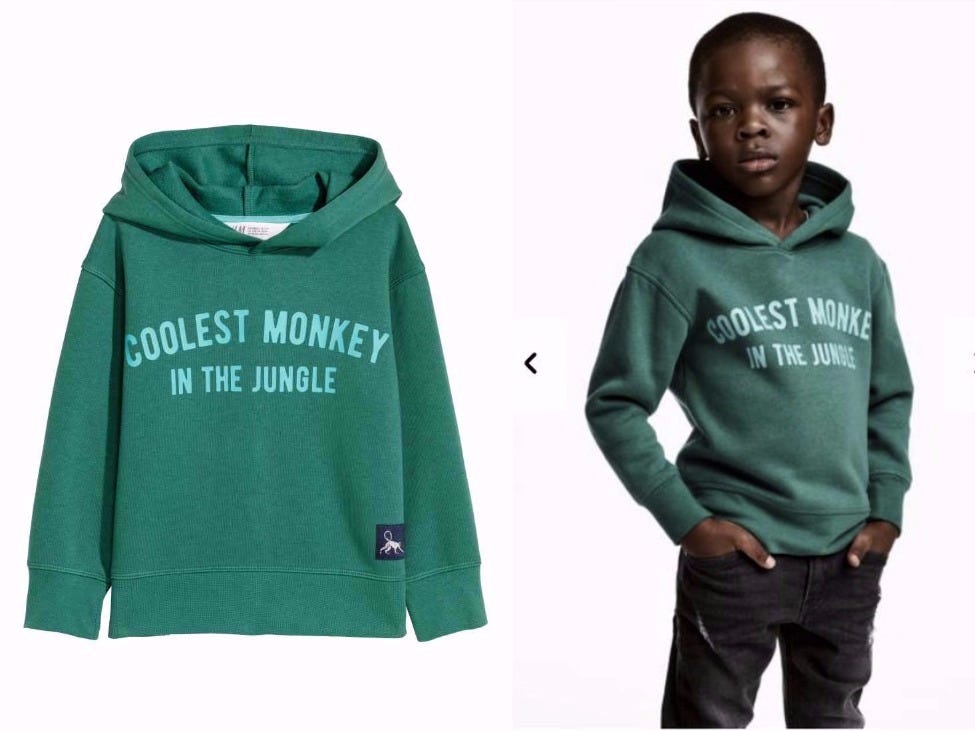 Heineken: Lighter is Better (2018)
To introduce their new product, Heineken Light, Heineken launched a 30 second ad that raised debate world-wide. The controversial ad shows a bartender sliding a bottle of Heineken Light along the bar, passing numerous people of color, before arriving at a woman with lighter skin. "Sometimes lighter is better" appears, and the ad ends there.
As you can imagine, the ad was as well received as a dog at a pedigree cat show. Even those in the spotlight criticized the ad with Chance the Rapper publicly dissing the brand saying the ad is "terribly racist". He went on to state that companies produce purposely racist advertisements to boost views.
Controversial? Or perhaps a prime example of bad ad, ill thought out and unethical in our modern era.

Gillette – We Believe Campaign (2019)
For the past 30 years, Gillette has expressed its products as "The best a man can get", allowing them to promote themselves as the most successful brand in the industry. But their 2019 'We Believe' campaign evoked questions around their mission.
The ad begins with a strong narrative making reference to sexual harassment, bullying, and masculine toxicity followed by images portraying these negative behaviours. The purpose of this controversial advertisement is for men to hold each other accountable for this type of behaviour as a way of bettering themselves and overcoming the general stereotype of men.
The campaign received mixed reviews from the public with supporters believing the controversy reinforced positive behavior. Whereas critics saw it as degrading and offensive to the male population.

Controversial Ads vs Bad Ads
Getting people talking with an ad that tackles a sensitive subject can be a very powerful way to tackle some of our global inequalities. Being controversial for the sake of it can succeed in some cases, but a brand should always weigh up the potential for backlash.
Controversial advertisements can often be seen as bad advertisements, as they can come across as insensitive, or worse still, totally ignorant. However, successful companies can use their status to raise awareness of world issues and to support equality. Globally, there is a growing awareness of social equality, especially with the rise of the #BLM movement and trans-rights. Done right, you can tap into the zeitgeist. Done wrong, you might be seen as an outdated relic.
Our tips for taking advantage of a controversial subject, while avoiding falling foul of a backlash are:
Take note of the trending sentiment around certain subjects and try to align yourself with them. Err on the side of progressive rather than reactionary or regressive.
If you're considering using a controversial person in your ads, try to understand how their presence could be perceived by some of your audience
Avoid marginalising or offending any sector of society, especially minorities or those on the fringes of society. By contrast, standing up for, or highlighting awareness, of minority concerns is a great way to generate some positive controversy and start a conversation (that will hopefully see you on the right side of the debate).
Relgion and politics are almost always best avoided when it comes to marketing.
If you do find yourself on the wrong side of a backlash, pull the ad as soon as possible and issue an apology.
Do you feel prepared to explore the opportunities behind controversial ads? Take a look at The Essential Digital Marketing Tools for tips to use for your campaign.