Click fraud is a global problem and one that affects some countries more than others. As digital advertising has become vitally important to many businesses, as many as 94% of consumers today rely on online research before they buy products.
It's estimated that click fraud will cost the world's businesses $23.7 billion from their digital advertising budgets in 2020. The COVID-19 economic crisis has only compounded the problem, causing click fraud to increase as unethical business rivals and companies that host digital ads become more desperate.
For the uninitiated, click fraud is when PPC ads are subjected to non-genuine clicks, either manually or by using automated bots, in order to:
Drive up advertising spend
Deplete advertising budgets so competitive ads disappear from search engines, and
Contaminate marketing data
Click fraud is a problem everywhere that people use the Internet, but it's worse in some countries than others.
Click fraud all over the World
Here is a graphic showing incidences of click fraud in several countries using data from May 2019 to May 2020. This is from a ClickCease study entitled The State of Click Fraud in SME Advertising.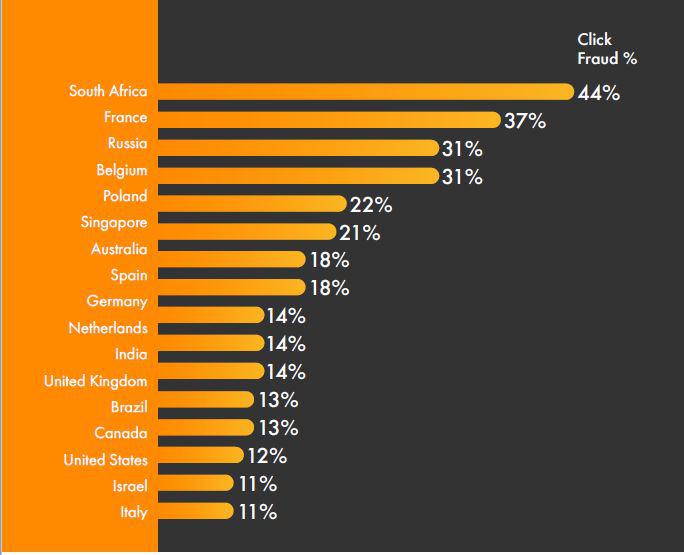 Now, further into the pandemic, the figures in some countries are even worse, rising 21% overall from before the threat.
United States
In early 2020, the average click fraud rate in the United States was 11%, but it has now risen to 14% of paid search clicks. Locksmiths, pest control and on-demand repair businesses are the most heavily targeted by click fraud criminals.
Canada
In Canada, click fraud accounts for 13% of clicks on PPC ads. In 2019, digital advertising in Canada was $636 billion USD, 53.5% of all ad spending and exceeding traditional ad spending for the first time. All signs indicate digital ad spending in Canada will grow to $7 billion USD by 2021. The three most targeted industries are on-demand repair, advertising and consulting.
Australia
Australian businesses spent $6.32 billion USD on digital advertising in 2019. A few months ago, click fraud in Australia stood at 18%, which was bad enough. But during the peak of the COVID-19 economic crisis, it reached 28%. The three Australian industries that suffer the most from fraudulent clicks are electricians, pest control companies and plumbers.
India
Digital advertising has taken off in India, increasing by 1,900% in just 10 years. Digital ad spend in India was only 8 billion rupees in 2009, and 10 years later in 2019 it had increased to 160 billion rupees or around $2.135 billion USD. By 2024 it is expected to increase to 539 billion rupees. Click fraud, of course, has accompanied this digital advertising boom, and 14% of clicks in India are fraudulent. The most at-risk industries are digital commerce, travel and leisure, and entertainment and gaming.
UK
Digital ad spending totaled around £14.73 billion ($19.64 billion USD) in the UK in 2019. 13% of the clicks on PPC ads are fraudulent. Click fraud is a serious challenge for businesses in the UK, because nearly 80% of SMEs are doing all their marketing online and 71% of UK business owners say that online marketing is essential to their success. The most targeted industries are insurance companies, locksmiths and plumbers.
France
Digital advertising spend in France in 2019 was approximately 4.90 billion euros (about $5.78 billion USD). France already had a devastating 37% click fraud rate in May 2020, extremely high compared with many other European countries, but it has risen as high as 41% in the face of the continuing COVID-19 crisis.
South Africa
Though top of the list for click fraud is South Africa. South African businesses suffer a massive 45% rate of click fraud. This is in the context of Digital ad spending in South Africa which is expected to reach $738 million USD in 2020.
Preventing click fraud
It's just not enough to rely on ad networks and search engines to protect your business against click fraud. Margins are often the difference between success and failure, and businesses just cannot afford to throw a big percentage of their digital advertising budgets away.
No matter where your business is based, or your industry; protect your marketing budget, your customer reach and your data by using click fraud prevention software such as ClickCease.